Safeguarding Children Policy and Procedures
The Diocese of Elphin latest Safeguarding Children Policy and Procedures Document can be found below, please click on image below to open in PDF format. If you require a hard copy please contact:
Mary Nicholson
Director of Safeguarding
St. Mary's
Temple Street
Sligo
071-9151086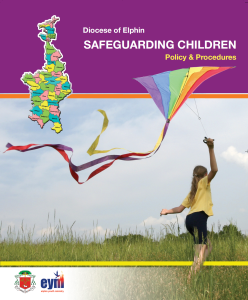 Safeguarding Children Policy and Procedures

Additional Interim Policy Documents
Safeguarding Children Strategy & Plan Document
Review Process for Issuing Updated Policy & Procedures Document
Safeguarding Communications Policy
Recording Policy
Recording Guidance Document – NBSCCCI
Whistle Blowing Policy
Disciplinary and Grievance Procedure
Labour Relations Commission – Grievance & Disciplinary Procedures
Mobile Phones, Electronic Communications & Photography Policy
Guidance on CCTV & Broadcasting on the Internet
The document above is in PDF format. To view or download .pdf files your computer requires that the Adobe Reader program is installed. The Adobe Reader program is free, and may be downloaded here.