Camino de Santiago 2019 – Young Adult Pilgrimage with Bishop Kevin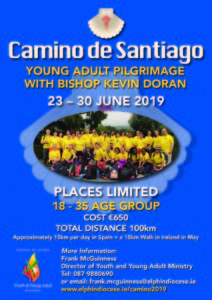 Please Click on Picture Above for Poster
Bishop Kevin Doran will lead a pilgrimage for young adults (18 -35) on the Camino de Santiago in June. All details, instructions for registration and contact information below.
Package Details:
Dates: 23rd – 30th June 2019
Age Group: 18 – 35
Cost €650.
Package includes flights, 7 nights accommodation with breakfast, 20kg Check-in luggage plus hand luggage, transfers and insurance.
Walking Details: A minimum of 100km walk is required to obtain the "Compostela", the official accreditation of the pilgrimage of St. James. This year we will walk the Celtic Camino, which includes an Irish and Spanish Component.
In Spain we will walk the Camino Ingles with our starting point at A Coruna, in the north west coast of Spain, finishing in Santiago de Compostela. This distance is 75km in total and we will walk it over 5 days, approximately 15km per day.
In Ireland during the month of May/June we will walk St. Kevin's way which will make up the additional 25km which is necessary to achieve the Compostela.
Registration & Signup Requirements – Registration Form Here
The following must be submitted to Frank McGuinness (details below) in order to reserve a place:
Pay €100 Non-Refundable Deposit
Completed Registration Form (Please Click Here For Registration Form)
Signed letter from Doctor indicating appropriate fitness/health to walk 100km .
Copy of Passport Details (please email or txt picture of details page to Frank McGuinness – details below)
Cheques/Draft made payable to ELPHIN-YOUTH-MINISTRY
IBAN and BIC details are available on request for those who wish to transfer monies directly.
Note: All personal details are held in line with GDPR guidelines
Flight Details
Outward: Depart Dublin- Aerlingus Flight EI0742 on Sunday 23rd June 2019 at 13:05, Arrive in Santiago de Compostella at 16:20
Return: Depart Santiago de Compostella – Aerlingus Flight EI0743 on Sunday 30th June 2019 at 17:00, Arrive in Dublin at 18:10
Out of A Coruna – Waking Guide
For More Information Please contact: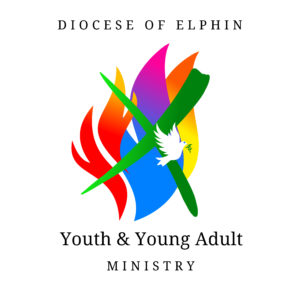 Frank McGuinness,
Director of Youth & Young Adult Ministry
St. Mary's
Temple Street
Sligo
Tel: 087 9880690
Email: frank.mcguinness@elphindiocese.ie
Take a look at our previous Camino Experience in 2017