Catholic Schools Week – Homily of Rev Dr Michael Duignan EV
Opening of Catholic Schools Week
Cathedral of the Immaculate Conception, Sligo
Sunday 29th January 2017
Homily of Rev Dr Michael Duignan, Episcopal Vicar for Education and Formation

As parents, as teachers, as a faith community – as educators of our children – this year Catholic Schools Week challenges us to place at the heart of our Catholic Schools a deep appreciation for the wonderfulness of God's creation and to cultivate morally responsible positive action when it comes to environmental issues.
An Opportunity to Reflect
Each year, Catholic Schools Week offers the Catholic Community and in particular those involved in Education – students, parents, clergy and teachers an occasion to reflect upon and affirm the unique richness of Catholic Education.
It also offers us an opportunity to emphasise, even in the face of what I would deem an often narrow minded hostility, the overwhelming positive contribution our catholic schools make to the shaping of our future generations and of Irish society in general.
Humility before the Mystery of Creation
A common theme throughout the readings today is that of humility. In the first reading the prophet Zephaniah cries out "Seek the Lord, all you the humble of the earth." In the second reading, St Paul speaks of God choosing "those who are nothing at all to show up those who have everything." In the Gospel, the Beatitudes praise those who are poor in spirit, those who are gentle, those who are merciful, the pure in heart, peace makers and those who hunger and thirst for what is right.
A central humbling belief of Christianity is that of Creation – how God out of love created humankind and so that we might be sustained and flourish, God created our world in all its beautiful complexity. The air we breathe, the water we drink, the food we eat are all in a very real sense a life-giving gift from God to me and you.
The theme of Catholic Schools Week this year is "learning to care for our common home". It is inspired by Pope Francis's recent call to reevaluate our attitude and action towards the world of nature and to begin to "hunger and thirst for what is right" when it comes to the future of our planet and the future of humanity whose home it is.
The Domesday Clock
During the week – the so called "Domesday Clock" was reset from three minutes to midnight and disaster to two and a half minutes to midnight and worldwide disaster. The clock, is managed by the Chicago based Bulletin of Atomic sciences as a visual reminder to the world of the immense challenges we face.
The last time the clock was set so close to midnight was in 1953 marking the start of the arms race between the United States and the Soviet Union. While the nuclear threat was foremost in the scientist's minds – they also cited the imminent reality of "catastrophic climate disruption" as a major contributing factor in their decision to move the Clock forward.
Too Busy to Stop and Stare
I am always amazed how – despite such worrying situations –we human beings often fail to stop and think about what is going on. We do this not just at a global level but also at a local individual level.
We are so busy – caught up in the bits and pieces of everyday life – going to work, doing the shopping, dropping Mary to football – John to guitar lessons – cleaning the house, emptying the bins and on and on and on. With our head bowed low to the grind stone of daily life, we rarely stop to contemplate the bigger picture of the world around us and the great questions facing our own lives and human life itself.
To paraphrase that great German Philosopher Martin Hedigger – I often think we have allowed ourselves to get lost in a world of beings – of things, or doings and we have forgotten about the deeper more profound realities that hold life in place.
There is no longer time to stop and stare. There is no longer time to contemplate and wonder at the magnificent gift of the world around us that is our common home – our one and only life support system.
As Elizabeth Barret Browing (1806-1861) points out it in her poem – From 'Aurora Leigh'
"Earth's crammed with heaven,
And every common bush afire with God,
But only he who sees takes off his shoes;
The rest sit round and pluck blackberries."
I suspect that most of us are the "sitting around picking blackberries" type.
Created by a Loving God as a Fitting Home for Humankind
Christianity, however, gives us that added insight that earth is crammed with heaven and that "every common bush is afire with God." The world around us is not just something that evolved by chance but is created by a loving God as a fitting home for humankind. It is a sacred and holy life-sustaining gift given not to one individual or group but to all humankind. As such each and every one of us has a responsibility to look after it and care for it. Christianity calls us to be people "who see" – and not only people who see but also people who "take off their a-shoes" – people who act – act in a good way when it comes to the environment and caring for our common home.
The Challenge of Catholic Schools Week 2017
As parents, as teachers, as a faith community – as educators of our children – this year Catholic Schools Week challenges us place at the heart of our Catholic schools a deep appreciation for the wonderfulness of God's creation and to cultivate morally responsible positive action when it comes to environmental issues.
It challenges us to teach our children how to stop and stare and appreciate the wonderful God-given world of nature around us. Here in Sligo that should not be too difficult – the wonderful vistas of Knocknarea or of snow sprinkled Ben Bulben. In these very days the first snowdrops peeping their heads above the ground – or the ducks and swans on the Garravogue.
It challenges us to teach our children to learn that they have to think of others as well as themselves. You simply cannot have everything you want no matter what. You cannot just drop that wrapper anywhere or throw that coke can into the river. Things can be used for longer and for more than once. Lights can be turned off and doors shut to keep the heat in. It takes effort to separate, recycle, reuse but it's the right thing to do – it is what God would want us to do.
Green Flag and Christian Wisdom
Up and down the country you will see a big green flag flying outside may primary and secondary schools as part of the green schools initiative where school communities work together to ensure that their school is as environmentally friendly as possible. What wonderful added depth and meaning this initiative is given when complimented by the ecological wisdom of Christianity on creation and the deep sense of Christian duty to "thirst for what is right" when it comes to caring for and looking after our common home.
Learning to Stop, Stare and Act
Is this not part of the unique mission of our Catholic schools? –– Educating our children academically and scientifically yes! but also educating them as human persons in matters of faith and the spirit – in the ways of wonder and awe at the world around us. Teaching them to lift their heads up from the mundane routine of everyday life to stop and stare and to value the gift of life itself and the sacred nature of our world. Educating them to "thirst for what is right", to act responsibly for the good of all and for the future of this already damaged planet we call earth – our common home – our only home.
Let me finish by quoting Professor John Sweeney, Climatologist at Maynooth University writing in the Irish Independent last Thursday:
"There can be few more important objectives for the Irish educational system today than providing a moral compass for our young people. As they embark on a journey into the unknown, an enlightened education offers perhaps the only chance of changing direction if, as Pope Francis says, "future generations of all creatures are to inherit a planet as healthy, beautiful and fruitful as the one this generation has inherited".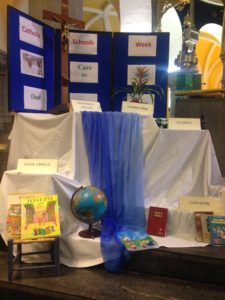 Display for Catholic Schools Week at the Cathedral