Invitations to Secondary Schools
(i)

Jubilee of Mercy Prayer Service, Friday September 23rd 2016.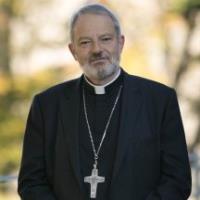 Thank you for visiting this page.
Since becoming pope on March 13th  2013, Pope Francis has frequently reminded us of two core beliefs which are shared by Christians, Muslims and Jews.  The first is that God is merciful, not just sometimes, but always. He reaches out to us to lift us up. The second core belief is that God wants us to be merciful and kind to one another.
This year, Pope Francis has designated  this year as a "Jubilee of Mercy", a special year when we  reflect on the Mercy of God and allow it to become part of our lives. He has reminded us how, in moments of quiet prayer especially, we come into the presence of God who knows us even better than we know ourselves. God knows our desire to be good and he also understands our struggles. He knows our successes and failures and he never stops loving us.
Pope Francis has also asked us to be "Merciful Like the Father". We sometimes experience the Mercy of God in a very concrete way in the goodness of other people who believe in God. In our turn, we can also be channels of God's mercy to others.
I decided to respond to the invitation of Pope Francis by celebrating the Jubilee of Mercy with different groups on different dates during the year. Already we have had the Jubilee of Mercy for the sick and those who care for them; for people expecting a baby; for people involved in sports; for priests.
Through this page and the  prayer resource that can be downloaded below I want to join with everybody who is involved in education to celebrate God's mercy and I am encouraging all school communities to host a short Jubilee of Mercy Prayer Service on Friday September 23rd.
I think our schools can be communities of mercy, if we all allow the love of God to touch our lives. We can be more forgiving; we can care for one another in times of difficulty or sadness.   In that way , with God's help, we can be "Merciful Like the Father".
In your time of prayer on Friday September 23rd I invite you to reflect on the different ways in which your school is a community of mercy and to give thanks to God.
Thank you.
+ Kevin Doran
Bishop of Elphin
Jubilee of Mercy Prayer Booklet (PDF)
 (ii)  Pilgrimage to Tobernalt (www.holywellsligo.com) and to Sligo Cathedral


           (and crossing of  threshold of the Holy Door)

All Transition Year students, and interested students of other years who wish to participate are invited to come to Sligo on any of the following Thursdays:  October  6th, 13th, 20th and 27th.
Transport and packed lunch to be arranged by school.
The programme each Thursdays shall be as follows:
10:30           Arrival in Tobernalt, Sligo.
Walking tour/pilgrimage explaining various elements of Tobernalt: the faith of our ancestors in this place, writing of prayers and placing them on the Intercession Tree, visit to Tobernalt Holy Well etc.
11:15            Departure for Gillooly Hall
Here students will be treated to a video presentation on Pope Francis and the Jubilee of Mercy, Mercy in Action – Reflection on God's gift of  forgiveness and renewal, and the Corporal Works of Mercy etc..
12:30           Time to eat packed lunch
Tea/coffee/water provided
13:00           Clean up and preparation to go to the Cathedral
13:30           Pilgrimage to the Cathedral of Our  Lady of the Immaculate Conception
Elements of pilgrimage will include:  crossing of threshold of Holy Door, visit  to the Baptismal font and renewal of baptismal commitments, time for personal reflection and exploration of religious art of the Cathedral, presentation on the sanctuary  of the Cathedral, placing of grains of incense in incense bowl,  a brief meditation on the Parable of the Prodigal Father / Son and an opportunity to celebrate the Sacrament of Reconciliation.
15:00           Closing prayer and departure
Time can be tailored to getting back to school to connect with buses.
For more information and booking please contact:
Colette Furlong,
Sligo Parishes Cluster Catechist
Email: [email protected]
Mobile: 087 9534904
Booking Essential