Fr Thomas Leahy SPS – RIP
The Diocese of Elphin is once again in mourning following the news on 23rd May 2018 of the death of Fr. Thomas Leahy SPS. Fr. Leahy was curate in Ballinaheglish for the past nine years, until he was forced to retire due to ill-health in early 2018.
Fr. Tommy grew up in Saddlebeg, Co Tipperary in the 1940s and was ordained a Kiltegan Missionary priest in 1966. He served first in the Diocese of Eldoret, Kenya and subsequently in Zimbabwe. He was then transferred to Grenada in the West Indies for ten years, after which he returned to Africa, serving for a further 21 years in Malawi. In 1992, during a time of political and civic unrest, Fr. Tommy was deported from Malawi for his involvement in advocating human rights.
We wish to convey out sympathies and the promise of our prayers, to Fr. Tommy's family in Tipperary, to his Kiltegan family and to his parishioners in Ballinaheglish.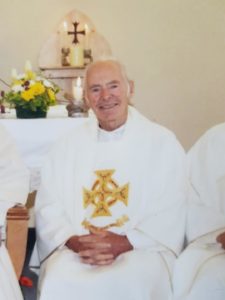 Fr Thomas Leahy SPS – RIP