Return to the Public Pastoral Life of the Church in the Tuam Province
This Guidance document, Nothing Can Separate Us from the Love of God, incorporates the principles expressed in the Framework Document for a Return to the Public Celebration of Mass and the Sacraments published by the Irish Episcopal Conference. We hope that many in our parish communities will be inspired to respond with generosity and energy in helping to renew and strengthen the four pillars of parish life: worship, word, community and outreach to those in need.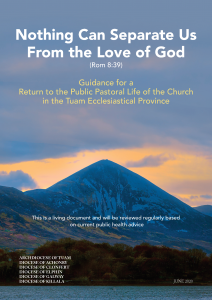 Resource 1 – Parish Support Team and Volunteer Roles
Resource 2 – Risk Assessment
Resource 3 – Training
Resource 4 – Cleaning
Resource 5 – Use of PPE
Resource 6 – Stewarding
Resource 7 – Distribution of Holy Communion
Resource 8 – Communications and Signage
Resource 9 A – Human Resources – Checklist for Management of Staff and Volunteers
Resource 9 B – Human Resources – Return to Work Form and Checklist
Resource 10 – Parish Policy Statement
Resource 11 – Responding to an Outbreak
Resource 12 – Church Readiness Form
Updated Advice Re: Face Coverings – 19th August 2020
The government has not formally made the wearing of face coverings mandatory during public worship (e.g at Mass). This is, in part, due to the fact that, as churches, we are committed to maintaining 2 metre physical distancing between household groups and strict adherence to all government guidance on hand hygiene, cleaning, ventilation etc.
It remains our responsibility, however, to ensure that all who gather to worship in our Churches are kept safe. It has become increasingly clear that the wearing of face coverings, in conjunction with hand washing etc, is likely to reduce the spread of Coronavirus, thus helping to protect others. Their use is therefore one way in which we can offer protection to the most vulnerable, support for our health workers and practical love for our neighbours.
Along with other Christian church leaders all over this island, I am now formally recommending and encouraging the use of face coverings at all Masses and other liturgical celebrations, along with the ongoing maintenance of 2 metre physical distancing. Some people, for good reasons, are exempted from the wearing of face coverings, even in contexts where it is normally mandatory. Those same reasons apply when people come to Mass and should, of course, be respected.
It would not be appropriate for the celebrant or the minister of the Word to wear face coverings while ministering in the sanctuary, but they should at all times continue to maintain at least 2 metres physical distancing from one another, and four metres physical distancing from the front row of the congregation.
As previously indicated in our Western Province guidance, face-coverings should be worn by all who distribute Holy Communion to the faithful.
Thank you for your understanding and support.
In addition to the resources above, we hope these training videos will assist parishes in preparation: