Monsignor Austin McKeon RIP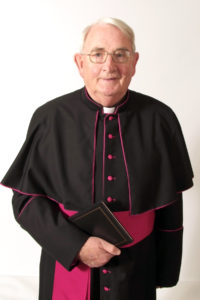 Monsignor Austin McKeon 1936 – 2016
Monsignor Austin McKeon was born in Rathmulpatrick, Drumnacool, Co Sligo on 15th August 1936, son of Patrick and Teresa McKeon.  He was sixth of eleven siblings.  Following his secondary education at Summerhill College, Sligo, Austin entered seminary at St Patrick's College, Maynooth where he was ordained on 17th June 1962.
His first two appointments as curate were in the Archdiocese of Tuam; the Parish of Kilmaine from 1962 – 1964 and Achill Sound from 1964 – 1965.
Austin was on the teaching staff of Summerhill College, Sligo from 1965 – 1980.  From September of 1980, he was assigned curate in St Anne's Parish, based in Carraroe while also continuing with his teaching duties in Summerhill College. He joined Committee for Traveling People in Sligo 1970. In addition to these responsibilities Mgr. McKeon served on the Galway Regional Marriage Tribunal between 1979 and 1983.
He was appointed President of Summerhill College in 1987 and the following year also became Principal, a role he held until late 1990.
In 1990, he was appointed Parish Priest of Tulsk, where he served for over twenty five years. In November 2015 he had to absent himself from the parish due to ill-health and he retired on health grounds in March 2016.
Mgr. McKeon made an enormous contribution to education in the Diocese of Elphin through his work as Diocesan Secretary of Primary Education, a position which he held from 1993 – 2014.  In this role he supported the mission of Boards of Management in all of the primary schools of the Diocese.
He was a member of the Knights of St Columbanus since 1971, serving as Deputy Grand Knight in 1985.
In 2011, Fr Austin was appointed a Prelate of Honour with the title of Monsignor.
As parish priest in Tulsk, Fr Austin contributed greatly to the local community:
Conducted Census of Tulsk Parish in 1991
Founded Tulsk Parish Active Group in 1991
Founder of Tulsk Parish Services for the elderly and young married couples in 1993
Founder of Tulsk Voluntary Housing in 1994
Opened St Eithne's Rest Care Centre in 2010 which became the first ever Irish "parish nursing home"
Oversaw major extensions and refurbishment for the four primary schools of the parish in 2009
Was instrumental in the establishment in 1990 of the Visitor's Centre in Tulsk
Director of Arigna Leader Board – a Statutory Board for Economic Development 1993 – 1998
Director of Co. Roscommon Child Care Committee 1994 – 1998
The Diocese of Elphin is deeply grateful to Mgr. Austin's family for the gift of Austin and extends sympathy to them and especially to his surviving brothers and sisters, Martha, Breedge, Eileen, Eugene and Eamon.  May he rest in peace.