Diocese Extends Invitation to Families to Attend Family Fun Day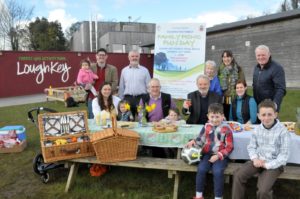 Bishop Kevin Doran launches the Diocesan Family Day.
Pictured at Lough Key Forest Park with the Poirier and Doherty Families,
Louise Fitzpatrick Manager of Lough Key Forest Park
and members of the organising committee – Tim Donnelly, Evelyn McManus and Eddie Carr (Photo: Liam Reynolds)
Bishop Kevin Doran is inviting families across the 37 parishes of the Diocese of Elphin to a family picnic fun day in Lough Key Forest Park, Boyle on Sunday 22nd April 2018. The celebration is part of diocesan preparations for the World Meeting of Families which will take place in August 2018. Speaking at the event launch at the Forest Park on Saturday, Bishop Kevin said, "this is a celebration of family in an atmosphere of fun, sharing and friendship. Families of other religious traditions and of none are our neighbours and friends and I want them to feel most welcome on this family day. The day will begin at 1pm and continue until 6pm with an official opening at 2.30pm.
Bishop Doran went on to say: "Lough Key Forest Park is a really beautiful location and we are very grateful for the way in which our proposal has been welcomed by the Manager, Louise Fitzpatrick. A family picnic in the scenic location of Lough Key Forest Park is an opportunity for the wider family in the diocese to come together. To eat together, to renew and build friendships. The surroundings of Lough Key gives another moment to think about the environment and how we care for it".
There will be face painting, dance workshops and outdoor games to play. Musicians, singers and choirs will share their gifts and create a family atmosphere. Families may choose to do some of the walks around the park and gain some insight into the history of Lough Key Forest Park. An opportunity will also be available to explore the beauty of creation and consider how we can care for our common home. Families can discover the Family Cube, a resource to help families on their journey of faith and love.
Admission to the event is free, with free parking. Families are encouraged to bring their own picnic or avail of Lough Key's on-site catering. BBQ's are permitted. Families are also invited to bring a bit of extra food for a sharing table.
Please note that the usual charges apply for Lough Key Forest Park's own activities. A programme of events for the day will be available here shortly.
Finally, don't forget to register to attend the World Meeting of Families 2018 this August! www.worldmeeting2018.ie