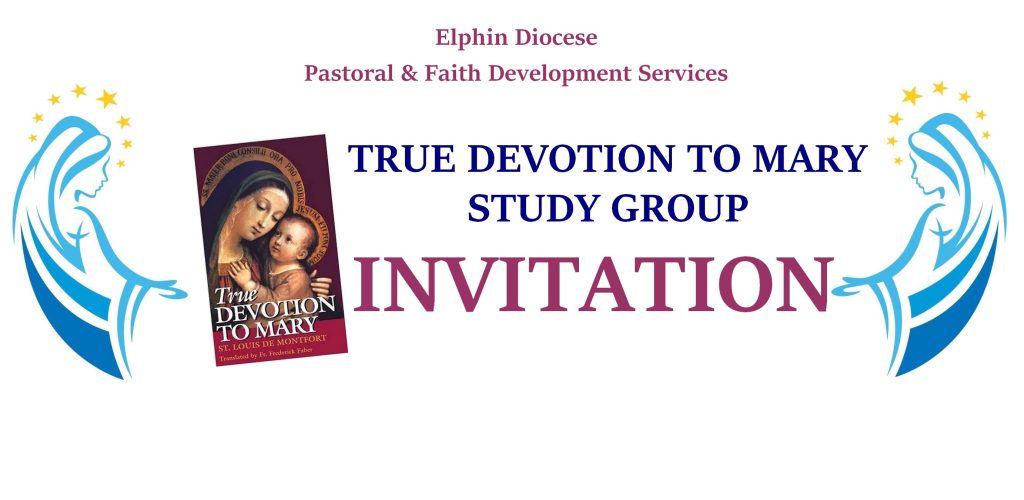 "The more we honour the Blessed Virgin, the more we honour Jesus Christ, because we honour Mary only that we may the more perfectly honour Jesus, since we go to her only as the way by which we are to find the end we are seeking, which is Jesus."
– St. Louis Marie de Montfort.
True Devotion to Mary Study Group Invitation
Background
Although written in 1712/13 St. Louis Marie de Montfort's book True Devotion to Mary is still considered one of the greatest ever written on the Blessed Virgin Mary and a masterpiece of Marian theology and spirituality Highly recommended by no less than eight popes and countless saints, including Mother Teresa of Calcutta, St. Maxmilian Kolbe and St. Pope John Paul II, it offers the enquiring and discerning reader much to ponder, pray about and discuss.
During the school years 2021/2022 and 2022/2023 three groups, each comprising c. fifteen adults from parishes of the Elphin, Clonfert and Tuam dioceses formed reflective study groups to undertake a shared enquiry. Their engagement wasn't academic. Rather each participant, supported by the group, found themselves establishing new personal and interpersonal connections with Our Lady and the One to whom she directs us, her son, Jesus Christ.
The membership of all three groups began by attending an information meeting, which was followed by fortnightly one-and-a-half hour meetings between mid-September and early June, taking extended breaks at Christmas and Easter.
Prior to each session members committed to reading a pre-selected section of the book and to engaging with a handout that incorporated some questions. The handouts drew on the work of an American Catechist, Anne Collins, and an eminent retired Catholic theologian, Rev. Prof. Basil Cole OP, who taught in The Pontifical University of St. Thomas Aquinas (Angelicum) in Rome and The Dominican House of Studies, Washington DC. Both Anne and Fr. Basil have much experience in supporting adult groups explore the writings of St. Louis Marie de Montfort.
Looking ahead
The whole experience has been so positive that participants are keen that interested others be facilitated in similar fashion.
Consequently arrangements are being put in place to facilitate two reflective study groups during the 2023/2024 school year, one in Donamon Castle, Roscommon , and another in The Gillooly Hall, beside Sligo Cathedral.
The Donamon Castle group will be failitated by Ms Irene Feeney, Pastoral & Faith Development Services' Volunteer, and spiritually accompanied by Fr. Eamonn O'Connor PP, Strokestown and Shannonside Radio Presenter.
The Sligo group will be facilitated by Ms Eithne Deane, Partner in the Gospel, Elphin diocese. This group's Spiritual Director has yet to be agreed. Both groups will be supported by Justin Harkin, Director, Elphin Diocese's Pastoral & Faith Development Services.
Those interested in participating are encouraged to register their interest with Irene (087 3179355) and to participate in one of the following Information Meetings in September:

IN-PERSON
7.30 – 8.15 pm
Thursday, 7th Sept. 2023
Donamon Castle,
Donamon,
Co. Roscommon
F42 YE13
7.30 – 8.15 pm
Monday 11th Sept. 2023
Gillooly Hall
Adelaide St.
Sligo
F91 N521
VIA ZOOM
7.30 – 8.15 pm
Tuesday 12th Sept. 2023
Zoom Link:
https://us02web.zoom.us/j/8761715260?pwd=TTcxUTc1K3FhNTVOTXZrRlBoNEw3Zz09
Meeting ID:
8761715260
Password
270420
The purpose of these Information meetings is to provide interested adults with a more in-depth introduction and to facilitate them meet other adults who are interested / curious about this initiative.
We wish to emphasise that participation in an information meeting does not bind a person to participation. An initiative of this nature can only flourish when members want to participate and are committed to enjoying their time together. We appreciate there may also be adults for whom such an undertaking is not possible or feasible at this time but who nevertheless would value the introduction to St. Louis Marie de Montfort's True Devotion to Mary that will be provided through these meetings.
Proposed Dates & Times For TDM Meetings

| | |
| --- | --- |
| Sligo Venue | Donamon Castle |
| Wednesdays 7.30 – 9 pm | Thursdays 7.30 – 9 pm |
| 1. Sept. 20th | 1. Sept. 21st |
| 2. Oct. 4th | 2. Oct. 5th |
| 3. Oct. 18th | 3. Oct. 19th |
| 4. Nov. 1st | 4. Nov. 2nd |
| 5. Nov. 15th | 5. Nov. 16th |
| 6. Nov. 29th | 6. Nov. 30th |
| 7. Dec. 13th | 7. Dec. 14th |
| CHRISTMAS BREAK | CHRISTMAS BREAK |
| | |
| --- | --- |
| 8. Jan 10th | 8. Jan. 11th |
| 9. Jan 24th | 9. Jan 25th |
| 10. Feb 7th | 10. Feb 8th |
| 11. Feb 21st | 11. Feb 22nd |
| 12. Mar 6th | 12. Mar 7th |
| 13. Mar 20th | 13. Mar 21st |
| EASTER BREAK | EASTER BREAK |
| 14. April 10th | 14. April 11th |
| 15. April 24th | 15. April 25th |
| 16. May 8th | 16. May 9th |
| | |
| --- | --- |
| 17. May 22nd | 17. May 23rd |
| 18. Friday May 31st – Concluding Celebration | 18. Friday May 31st – Concluding Celebration |
| | |
All meetings will be c. 1 and a half hours in length and will integrate brief times of prayer, some reading and facilitated conversation.
Which version of True Devotion to Mary?
A number of publishers publish this spiritual classic.
We encourage participants to avail of the version published by Catholic Way Publishing entitled 'True Devotion to Mary with preparation for total consecration' as it uses a numbering sequence that supports group engagement. Copies will be made available at in-person Information meetings.

This book is also available through Veritas Online Bookstore and Amazon.
Further Enquiries
Please contact Ms Irene Feeney on 087 3179355 (Donamon venue)
Please contact Mrs Eithne Deane on 086 238 5649 (Sligo venue)
Please contact Justin Harkin on 087 6171526 (either venue)
Thank you.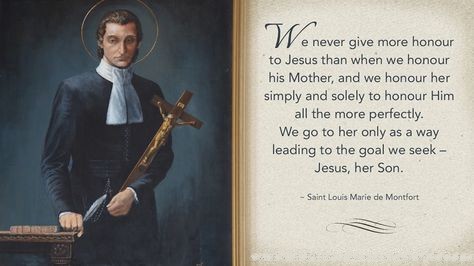 Posted: 12/09/2023