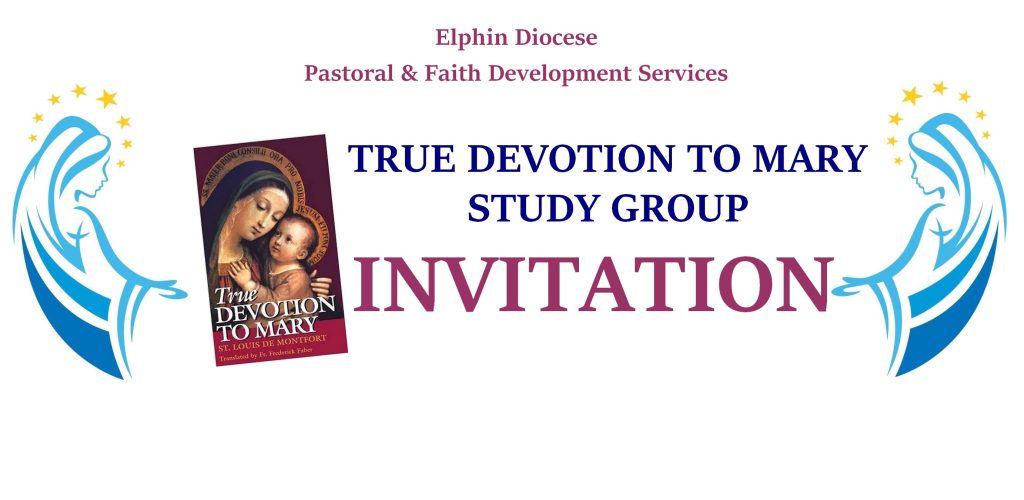 "The more we honour the Blessed Virgin, the more we honour Jesus Christ, because we honour Mary only that we may the more perfectly honour Jesus, since we go to her only as the way by which we are to find the end we are seeking, which is Jesus."
– St. Louis Marie de Montfort.
True Devotion to Mary Study Group Invitation
Background
Although written in 1716 St. Louis Marie de Montfort's book True Devotion to Mary is still considered one of the greatest ever written on the Blessed Virgin Mary and a masterpiece of Marian theology and spirituality Highly recommended by no less than eight popes and countless saints, including Mother Teresa of Calcutta, St. Maxmilian Kolbe and St. Pope John Paul II, it offers the enquiring and discerning reader much to ponder, pray about and discuss.
Last year a group of fourteen adults from parishes of the Clonfert, Elphin and Tuam dioceses formed a reflective study group to undertake a shared enquiry. Between September 2021 and April 2022 they met fortnightly (taking extended breaks at Christmas and Easter) in Ballinasloe.
Prior to each session all committed to reading a pre-selected section of the book and to engaging with a handout that incorporated some questions to support discussion during group meetings. The handouts drew on the work of an American Catechist, Anne Collins, and an eminent retired Catholic theologian, Rev. Prof. Basil Cole OP, who taught in The Pontifical University of St. Thomas Aquinas (Angelicum) in Rome and The Dominican House of Studies, Washington DC. Both Anne and Fr. Basil have much experience in supporting adult groups explore the writings of St. Louis Marie de Montfort.
Looking ahead
The whole experience has been so positive that participants are keen that interested others be facilitated with a similar experience.
Consequently arrangements are being put in place to facilitate two reflective study groups during the 2022/2023 school year, one in the Elphin diocese, and another in Ballinasloe, supported by The CREIDEAMH Network (www.creideamh.ie).
The facilitators in the Elphin diocese will be Irene Feeney, Pastoral & Faith Development Services' Volunteer , and Eithne Deane, Partner in the Gospel, Elphin diocese, and the group's Spiritual Director will be Fr. Eugene McLoughlin PE. Both Irene and Eithne were members of the original group that met in Ballinasloe last year.
Those interested in participating are encouraged to register their interest with Justin Harkin, Director, Elphin Diocese's Pastoral & Faith Development Services, by contacting Justin on 087 6171526 / [email protected] .
An Information Meeting will also be held in Roscommon in early September, providing interested adults with an opportunity to receive a more in-depth introduction and to meet others with an interest.
Finally, we wish to emphasise that participation in the information meeting will be just that. A study group of this nature can only flourish when members want to participate and are committed to enjoying their interaction with one another. We appreciate there may also be adults for whom such an undertaking is not possible or feasible at this time but who nevertheless are likely to value the introduction to St. Louis Marie de Montfort's True Devotion to Mary that will be provided through these infomation meetings. All will be welcome.
Proposed Dates (all Wednesdays) For Meetings 2022 / 2023
Sept. 21st
Oct. 5th
Oct. 19th
Nov. 2nd
Nov. 16th
Nov. 30th
Dec. 14th
CHRISTMAS BREAK
Jan. 4th
Jan. 18th
Feb. 1st
Feb. 15th
March 1st
March 15th
March 29th
EASTER BREAK
April 26th
May 10th
All meetings will be c. 1 and a half hours in length and will integrate brief times of prayer, some reading and facilitated conversation.
The programme may run morning or evening, pending interested persons availability.
Proposed Venue
St. Coman's Club, Abbey St., Roscommon .
… parking available in Sacred Heart Church car park.
Information Meetings
Via Zoom
7 – 7.30 pm
Wednesday 7th September
Please contact Justin Harkin (contact details below) for Zoom Link.
In-person
8 – 8.30 pm
Thursday 8th September
St. Coman's Club, Abbey St., Roscommon.
All interested persons are welcome.
Which version of True Devotion to Mary?
A number of publishers continue to publish this spiritual classic
We encourage participants to avail of the version published by Catholic Way Publishing entitled 'True Devotion to Mary with preparation for total consecration' as it uses a numbering sequence that supports group engagement.

This book is available through Veritas Online Bookstore, Amazon and Book Depository.
Further Enquiries
Please contact Justin Harkin on 087 6171526 / [email protected] .
Thank you.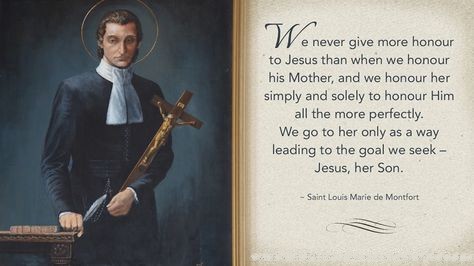 Posted: 15/8/2022