Bishop Kevin Doran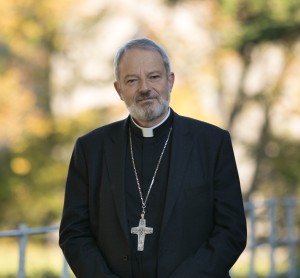 Biographical Note:
Bishop Kevin Doran was born on 26 June 1953 to parents Joseph Doran and Marie Brady (both died in 2002).  He has two younger sisters Colette and Patricia.
Bishop Kevin began his seminary formation at Holy Cross College, Clonliffe (1970-1974) and completed his preparation for ordination at the Pontifical Irish College, Rome.  He was ordained a Deacon on 6 May 1976 by the late Bishop Dominic Conway (former Bishop of Elphin from 1971 – 1996) in Rome, and was ordained a priest of Dublin Diocese on 6 July 1977 by Bishop Patrick Dunne, in Our Lady of Victories Church, Sallynoggin, Dublin. He was appointed Bishop of Elphin on May 14th 2014 and ordained bishop on July 13th of the same year.
Academic Qualifications:
Bishop Kevin's undergraduate studies led to the award of a BA in Philosophy and French (1974) from the University College Dublin and an STB – Bachelor of Sacred Theology (1977) from the Pontifical Gregorian University. He was awarded an MA in Philosophy (1987) from UCD for his thesis on the philosophy of the Human Person in the thought of Thomas Aquinas and Bernard Lonergan. This was followed in 1995 by the award of a PhD from the Pontifical University of St. Thomas Aquinas (Angelicum), for a thesis entitled "Solidarity: A Synthesis of Personalism and Communalism in the thought of Karol Wojytla / Pope John Paul II"
Priestly Ministry (1977-2014):
Bishop Kevin spent 37 years as priest of Dublin Diocese prior to his appointment as Bishop of Elphin.  During that time he ministered in six parishes. He was also, at various stages, Education Secretary for Vocational Schools, and Chaplain at University College Dublin. He was Secretary General of the 50th International Eucharistic Congress 2012. One of Bishop Kevin's particular interests is the Ethics of Healthcare. He served for fourteen years as Secretary of the Episcopal Committee for Bioethics and was a member of the Board of the Mater Misericordae University Hospital for many years.  Much of Bishop Kevin's priestly ministry was concerned with the promotion of vocations and formation for ministry. He served both as Director of Vocations and Director of the Permanent Diaconate Programme in Dublin. He also served for five years as Spiritual Director at the Irish College, Rome.  He also served as National Coordinator for Vocations, Coordinator of the European Vocations Service, and Consultor at the Congregation for Catholic Education. He taught Philosophy and Moral Theology on a part time basis at Mater Dei Institute and subsequently the Milltown Institute.
Bishop of Elphin (2014)
Bishop Doran's first pastoral letter, "A Future Full of Hope" on Catholic Education, was published in November 2014.  As a member of the Catholic Bishops' Conference, Bishop Kevin chairs the Committee for Bioethics and is also a Member of the Council for the Family.
Bibliography:
Bishop Kevin Doran has written the following books:
More Joy in Heaven: Confession, The Sacrament of Reconciliation. Dublin: Veritas, 1988.
What is a Person? The Concept and the Implications for Ethics. New York: Edwin Mellen Press, 1989.
Solidarity: A Synthesis of Personalism and Communalism in the thought of Karol Wojtyla, Pope John Paul II. New York, Peter Lang, 1996.
He has also contributed to various pastoral and academic journals
Contact Details:
Bishop Kevin Doran
Bishop of Elphin
St Mary's
Temple Street
Sligo
071-9150106
[email protected]