Birthday Celebrations for Elphin's Oldest Priest
The oldest priests in the Diocese of Elphin, Canon Gerald Donnelly celebrated his 97th birthday last week.  He was joined by priests of the diocese to mark this special occassion.
Canon Donnelly, originally from Kiltoom in Athlone, attended Summerhill College, Sligo and then St Patrick's College Maynooth where he was ordained a priest in 1944.  Canon Donnelly served for a number of years in Walworth, Diocese of Southwark before returning to Ireland in 1955 as curate in Crossna, Co Roscommon.  In 1956 he became Administrator of the Cathedral of the Immaculate Conception, Sligo, a role he held for just over 20 years.  His next appointment brought him back closer to home where he became Army Chaplain at Custume Barracks, Athlone until 1981.  In 1981 he was appointed Parish Priest of Ballygar where he stayed until his retirement in 2001.
We wish Canon Donnelly a very happy 97th birthday and every blessing for his 98th year.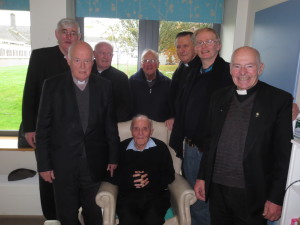 (Front Row L-R) Canon Peadar Lavin, Canon Gerald Donnelly (seated) Fr Tom Leahy SPS
(Back Row L-R) Fr Sean Beirne, Fr Michael Breslin, Msgr Charles Travers, Canon Eugene Mc Loughlin, Fr John Leogue
Picture taken By Fr Donal Morris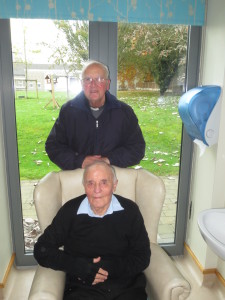 Msgr  Travers pictured with Canon Gerald Donnelly, both former administrators of the Cathedral of the Immaculate Conception, Sligo
Picture taken By Fr Donal Morris