Camino 2017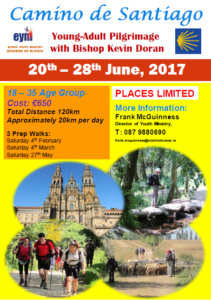 Camino de Santiago – Young Adult Pilgrimage with Bishop Kevin Doran.
20th – 28th June 2017.
18 – 35 age group.
Cost €650.
Package includes flights, 8 nights accommodation with breakfast, 20kg Check-in luggage plus hand luggage, transfers and insurance, plus day trip to Fisterra.
We will walk from Sarria to Santiago de Compostela, a total distance 120Km, approximately 20Km per day.
There will be three preparation walks:
Saturday 4th February, Saturday 4th March and Saturday 27th May, those booking are encouraged to take part in one or all.
The following must be submitted to Frank McGuinness (details below) in order to reserve a place:
Pay €100 Non-Refundable Deposit
Completed Registration Form (Please Click Here For Registration Form)
Signed letter from Doctor indicating appropriate fitness/health to walk 120Km in 6 days.
Copy of Passport Details (please email or txt picture of details to Frank McGuinness – details below)
Cheques/Draft made payable to ELPHIN-YOUTH-MINISTRY
Flight Details
Outward:
Depart Dublin- Aerlingus Flight EI742 on Tuesday 20th June 2017 at 13:10, Arrive in Santiago de Compostella at 1620
Return:
Depart Santiago de Compostella – Aerlingus Flight EI743 on Wednesday 28th June 2017 at 17:00, Arrive in Dublin at 18:10
For More Information Please contact:
Frank McGuinness,
Director of Youth Ministry
St. Mary's
Temple Street
Sligo
Tel: 087 9880690
Email: [email protected]