Canon Kevin Earley RIP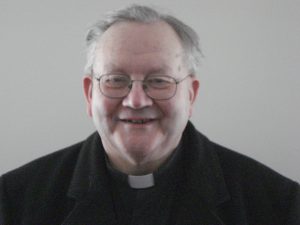 Canon Kevin Early, who died on 10th June 2020, was born in Ballymoe, Co. Roscommon on 17th November 1940. He was destined to follow in the footsteps of another great native of Ballymoe, Fr Edward Flanagan, founder of Boystown. While Fr. Flanagan became a priest in Omaha, the two men shared one abiding passion, the education of young people. He spent thirty-three of his fifty-five years as a priest in second level Colleges and is remembered fondly by a great many of those he taught for his gentleness and for the interest he took in them as people, not just as students.
The young Kevin Earley left his home place in 1953 and began his second-level education at the College of the Immaculate Conception, Summerhill, Sligo. Following his Leaving certificate, he went to St. Patrick's College, Maynooth as a candidate for priesthood and was ordained for the Diocese of Elphin in 1965. As was quite common at that time, Fr. Kevin's first appointment as a priest was outside the Diocese. In his case, he was a curate at Milltown, in the Diocese of Tuam, while doing the HDip and the Diploma in Accountancy at UCG.
Fr Earley was appointed to the teaching staff of his Alma Mater, Summerhill College, in September 1966 and remained there until 1988, becoming Principal in 1987. From Summerhill he went to St. Mary's College, Boyle, where he was principal from 1988 to 1990. He returned to Sligo to complete his teaching career as Principal of Summerhill College, from 1990 to 1999, and was appointed a Canon of the Cathedral Chapter in 1992.
Just short of his sixtieth birthday, Canon Earley was appointed Parish priest of Frenchpark, beginning a new chapter in his service of God's people. He served in Frenchpark until July 2015. As his eyesight had begun to deteriorate, he decided it was no longer possible for him to drive safely in the dark and that was part of what prompted him to retire immediately on reaching his 75th birthday. As pastor emeritus, he moved back to live with his sister-in-law Gretta, in the village of Ballymoe, where he was born.
His death followed a year of declining health and, appropriately enough, he spent his final days back in Boyle, where he was cared for in Drumderrig Nursing Home.
May he rest in peace.