History in the making as Diocesan Catechist Programme begins
History in the making as Diocesan Catechist Formation Programme begins
Saturday November 12th saw the beginning of formation of volunteer Diocesan Catechists in the Diocese. Over thirty participants gathered at Summerhill College in Sligo for the first weekend of a Propaedeutic or Preliminary year which will lead into a three year formation programme.
The initiative aptly called "Partners in the Gospel" was launched by Bishop Kevin last February. In due course this will involve lay people being formally commissioned as official leaders of faith based education programmes and opportunities in partnership with the priests and parish communities. While catechists have always have had an important role in the church and indeed contribute greatly in other countries this is the first systematic introduction of the ministry in the diocese of Elphin.
The day started with an introduction by the Director of the Programme Father Michael Duignan, followed by input by Bishop Kevin and an afternoon session introducing Catechesis and the work of a catechist by Ms Colette Furlong, who works as a full-time Catechist to the Sligo Parish Cluster. It finished with the celebration of the Eucharist led by Bishop Kevin. The day was characterised by a great spirit of enthusiasm for the journey ahead and a genuine excitement among participants at the challenge of doing something new for to nourish their own faith and that of their communities.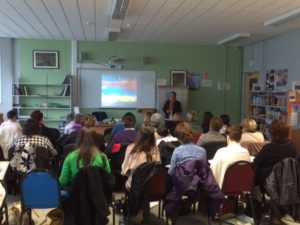 Ms Colette Furlong presenting to the group