In Hopeful Expectation – Prayers at Home for Advent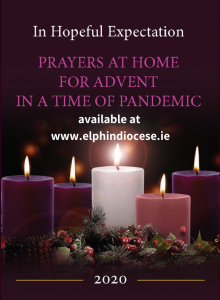 As the commercial world about us readies itself for the Christmas season we are invited to take a step back and view the bigger picture: the key Christian belief that life is a sacred journey towards eternity and that someday "at an hour we do not expect", Jesus will return again to bring finality to the transforming work he began that first Christmas many years ago.
If approached in a spirit of openness, Advent can be an opportunity to deepen our sense of God who walks alongside us on the journey of life. It is somewhat like a mini Lent before Christmas. We are invited to set aside some extra time and space for prayer, reflection and good works. The restrictions in place because of the Coronavirus mean that we may not be in a position to gather as usual for our religious services. This situation challenges us to find new ways of reflecting on our faith and praying in our homes. It is hoped that this guide, prepared by the Dioceses of Clonfert and Elphin, will assist you in doing just that.
Click on the links below to download
In Hopeful Expectation – Prayers at Home for Advent in a Time of Pandemic – Full Booklet
Solemnity of the Blessed Virgin Mary