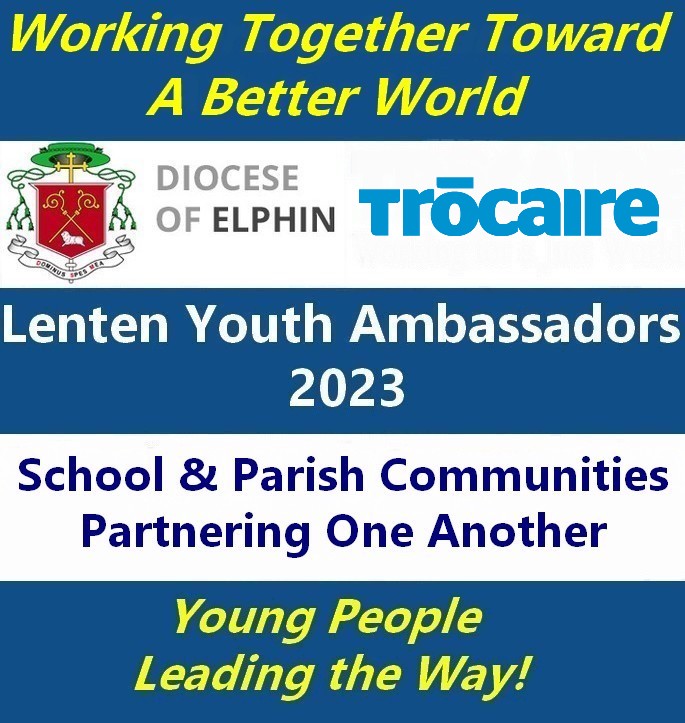 INVITATION
In partnership with Trócaire ,the Elphin diocese invites parish and Post-Primary school communities to evolve a simple partnership by way of encouraging and supporting interested Transition Year /Fifth Year students play a valued role in their parish and / or school community as Lenten Youth Ambassadors.
WHAT IS A LENTEN YOUTH AMBASSADOR?
A Transition Year/ Fifth Year Student who, between mid-January and late-March 2023, is willing:
to come along to a school-day event (10 – 3 pm), meet young people from other schools and parishes, parish volunteers and Trócaire personnel, and spend the day learning about Global Justice and the work of Trócaire.
is willing to represent Trócaire and the work that Trócaire and their partners do to support people facing huge challenges and injustices in their lives.
is willing, with appropriate support from a teacher / chaplain (in terms of school initiatives) and /or pre-identified Adult Parish Volunteers (parish initiatives), to highlight Trócaire's Lenten Campaign in their school and /or parish.
The primary advancement of this initiative will be through a choice of two educational days led by Trócaire and diocesan personnel. The first of these will take place in Kilbride Community Centre, Co. Roscommon, on Wednesday, 8th February 2023, serving schools and parishes in the southern end of the Elphin diocese, and the second, in The Gillooly Hall, Sligo, on Thursday, 9th February 2023, serving schools and parishes in the northern end.
Both days (10 – 3 pm) will culminate in:
an invitation to participating students to be part of a team that will support Trócaire's Lenten Campaign in their parish and / or school community,
willing students identifying a few concrete ways they could help raise awareness,
a commissioning ceremony,
and back in the parishes / school
interested students, with adult support, exercising their gifts and competencies in favour of agreed initiatives.
We are particularly keen that students experience the initiative as an opportunity to exercise their gifts and abilities in their parish communities and that their experience will help them recognise that they are valued members of their parish communities.
Time spent as a Lenten Youth Ambassador may also be put toward a St. Pope John Paul II Award.
FIRST STEP
During November 2022 the diocese hosted a number of online Information Meetings to foster awareness of this intiative among clergy, parish pastoral council members, other parish volunteers and school personnel, e.g. principals, deputy principals, TY and Religious Education Co-ordinators, Religious Education teachers. We are grateful to all who participated.
More recently Deacon william Gacquin (Diocesan Trócaire Representative) and Justin Harkin (Director, Elphin Diocese's Pastoral & Faith Development Services) have written to all clergy in parish ministry and parish pastoral council officers requesting that this initative be discussed in each parish and a decision taken as to whether the parish will adopt it as part of its 2023 Youth Ministry strategy.
NEXT & REMAINING STEPS
Where a parish opts to adopt this initiative the following steps will apply:
Parish Pastoral Council or others to support parish clergy recruit two or more Adult Parish Volunteers to journey with their Transition / Fifth Year students
Safeguarding Training incorporating application for Garda Vetting (if not already vetted) and other paper work for Adult Parish Volunteers who have not undertaken Safeguarding Training

8 – 10 pm on Monday 23rd January in Summerhill College, Sligo,
or
8 – 10 pm on Monday 30th January in Hannon's Hotel, Athlone Road, Roscommon.

Parish Pastoral Council / Parish Priest to write to school(s) attended by teenage parishioners requesting that an invitation be extended to students from the parish to participate in the educational day for their region of the diocese, i.e

Kilbride Community Centre on Wednesday, 8th February,
or,
The Gillooly Hall, Sligo, on Thursday, 9th February 2023.
Should the school and some students from the parish accept the invitation to become involved:
students, an accompanying adult from their school community and a minimum of two Adult Parish Volunteers to participate in one of the above educational days (parishes indicating their intent to participate by contacting Deacon William or Justin)
Should students opt to be commissioned as Lenten Youth Ambassadors,
students and Adult Parish Volunteers to agree on two additional parish-based meetings to support initiatives that they agree upon.
HAS THIS INITIATIVE BEEN PILOTED?
Yes. We are building on a pilot initiative that ran during Lent 2022. Our thanks to the following schools and parish communities for taking part:
Boyle parish & Abbey Community College, Boyle
Kilbride parish & Scoil Muire Gan Smál, Roscommon
Ahascragh/Caltra parish & Ballymacward/Gurteen parish (Clonfert Diocese) & St. Cuan's College, Castleblakney
St. Peter's & Paul's /Clonown Drum parish & Coláiste Chiaráin Athlone
Mountbellew parish (Tuam diocese) & Holy Rosary College, Mountbellew
Projects undertaken by students included creating visual displays in churches and schools, promoting Trócaire's Lenten social media campaign, raising awareness with junior cycle students in schools and speaking at Sunday Masses in parishes.
THE ROLE OF THE ADULT PARISH VOLUNTEER (2 or more persons)
The primary role of each Adult Parish Volunteer is to journey with the Lenten Youth Ambassadors of their parish from the educational day until completion of the ambassadors chosen initiative(s).
This journey includes:
1) undertaking safeguarding training, which will incorporate necessary paperwork (if not undertaken already)
2) participating in the educational day with students
3) being a friendly presence
4) assisting the ambassadors determine one or two manageable projects
5) ensuring that safeguarding requirements are met when ambassadors gather to progress projects
6) affirming and praising work undertaken
7) facilitating ambassadors access any additional help that may be required.
As most TY students are competent and talented people who have other commitments it is not envisaged that Lenten Youth Ambassadors and Adult Parish Volunteers will meet on more than two or three occasions.
SUPPORTING RESOURCES
The diocese and Trócaire appreciate that parishes and schools will require supporting documentation, e.g. template letters to support recruitment of parish volunteers, letters from parish priests / parish administrators to school principals, information for parents of teenagers and related permission slips. These can be requested from Deacon William or Justin (see contact details below).
Work is also advancing regarding a short video invitation to students residing in parishes that opt into the Lenten Youth Ambassador initiative.
ADDITIONAL ENQUIRIES:
Justin Harkin
Pastoral & Faith Dev. Services
[email protected]
087 6171526
Deacon William Gacquin
Diocesan Trócaire Representative
[email protected]
086 1693902