Papal Award for Sr Patricia Tomlinson RSM
On Friday last, 28th September 2018, Bishop Kevin presented Sr Patricia Tomlinson RSM with an honour from Pope Francis Pro Ecclesia et Pontifice in recognition of her for the Diocese of Elphin. Pro Ecclesia et Pontifice is conferred for distinguished service to the church by lay people and clergy.
Sr Patricia is a member of the Western Province of the Sisters of Mercy who spent many years as Head of the Business School at IT Sligo.
Following her retirement from that role, she responded to a request from the late Bishop Christopher Jones to undertake the establishment of new information systems at the Diocesan Offices in St Mary's, Sligo in 2007. She has remained on at St. Mary's ever since and has served with great generosity and expertise in the fields of Educational Administration and Financial Management. In addition to her work at St. Mary's she is currently Chairperson of the Board of a Primary School and also a member of the Board of Management of the College of the Immaculate Conception, Summerhill, Sligo.
In the best tradition of consecrated life, Sr Patricia is an "encourager". Nothing she does is ever about herself. It is always about the service of others.
Thank you Sr Patricia for your outstanding contribution to the life of our diocese. Ad multos annos!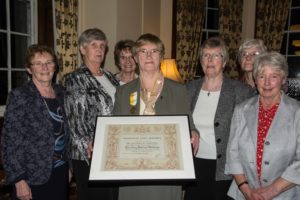 Sr Patricia with Sisters of Mercy, Sligo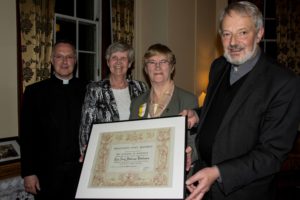 Fr Michael Duignan, Sr Juliet Walsh, Sr Patricia Tomlinson, Bishop Kevin Doran
Staff of the Elphin Diocesan Office:
Frank McGuinness, Fr Michael Duignan, Sr Patricia Tomlinson,
Sheena Darcy, Justin Harkin, Mary Nicholson, Bishop Kevin Doran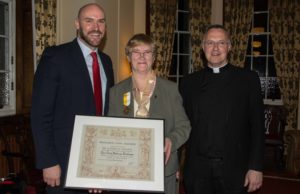 Mr Paul Keogh, Sr Patricia Tomlinson, Fr Michael Duignan