Parish Details
ATHLONE, SS PETER AND PAUL'S
Address: Parish Office Forthill House The Batteries Athlone Co Roscommon
Phone: 090-6492171
Parish Personnel
Churches and Mass Times
SS Peter and Paul's Church, Athlone Town (N37AK84), Athlone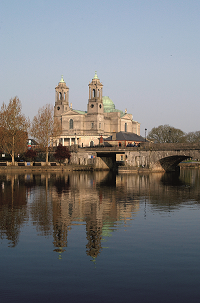 Mass Times:
Sunday:
Monday:
Tuesday:
Wednesday:
Thursday:
Friday:
Saturday:
9.00am
10.30am
12noon
9.30am
7.30pm
9.30am
9.30am
9.30am
9.30am
7.30pm
9.30am
6.30pm Vigil
Holy Days of Obligation 6.30pm (Vigil), 9.30am, 12noon & 6.30pm
Other Notes
Holy Hour and Exposition of the Blessed Sacrament In the Oratory, 8 Castle Street every Sunday afternoon from 5-6pm.
Rosary for Peace - Every Saturday at 3.30pm in the Church of Ss. Peter & Paul.
Novena to Our Lady of Perpetual Help After 9.30am and 7.30pm Mass on Mondays.
Perpetual Eucharistic Adoration Programme In the Chapel of Adoration at the Liturgical Centre, 8 Castle Street. Adorers are requested to commit themselves to do one hour of their own choice in a weekly rota. For further details ring 090-6492278. Please submit details of your selected day or hour to one of the Sisters at the Liturgical Centre.
---
St Brigid's Church, Drum (N37 XV90)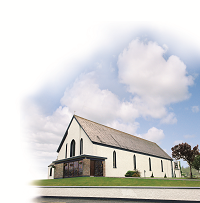 Mass Times:
| Sunday: | Monday: | Tuesday: | Wednesday: | Thursday: | Friday: | Saturday: |
| --- | --- | --- | --- | --- | --- | --- |
| 11.00am | | 7.00pm | 7.00pm | 7.00pm | 7.00pm | 8.00pm Vigil |
---
Our Lady of the Wayside, Clonown (N37HW24)
Mass Times:
| Sunday: | Monday: | Tuesday: | Wednesday: | Thursday: | Friday: | Saturday: |
| --- | --- | --- | --- | --- | --- | --- |
| 11.15am | | | | | | |
---
Schools
Ardkeenan NS
Address: Drum, Athlone, Co Roscommon
Phone: 0906437244
Principal: Ms Ruth Costello
Email: ardkeenanns@gmail.com
Roll Number: 17054R
Clonown NS
Address: Clonown, Athlone, Co Roscommon
Phone: 0906437448
Principal: Ms Fiona O'Neill
Email: clonownns@gmail.com
Roll Number: 16427C
Cloonakilla NS
Address: Bealnamuille, Athlone, Co Roscommon
Phone: 0906492569
Principal: Ms Mary O'Rourke
Email: cloonakillaschool@gmail.com
Roll Number: 18395C
Cornafulla NS
Address: Cornafulla, Athlone, Co Roscommon
Phone: 0906437177
Principal: Ms Joan Conway
Email: principal@cornafullans.ie
Roll Number: 01607T
Dean Kelly NS
Address: Goldsmith Terrace, Athlone, Co Roscommon
Phone: 0906492000
Principal: Ms Sandra Lennon
Email: deankellyboysns@hotmail.com
Roll Number: 16639R
St Joseph's NS, Summerhill
Address: Summerhill, Athlone, Co Roscommon
Phone: 0906492037
Principal: Ms Tracy O'Raghallaigh
Email: summerhill.ias@eircom.net
Roll Number: 12754U
St Paul's NS
Address: Lyster Street, Athlone, Co Roscommon
Phone: 0906494315
Principal: Ms Anne Connaughton
Email: stpaulsnsathlone@gmail.com
Roll Number: 18405C
St Peter's NS
Address: Excise Street, Athlone, Co Roscommon
Phone: 0906492363
Principal: Ms Anne Fagan
Email: stpetersgns@gmail.com
Roll Number: 07722D