Reflection of Bishop Kevin Doran, at a Mass of Thanksgiving for St. Angela's College, Sligo
Reflection of Bishop Kevin Doran, at a Mass of Thanksgiving for St. Angela's College, Sligo Graduates, Staff, and Family Members in St. John's Church, Carraroe, Sligo
Friday 3rd November 2017
Gifts Received Becoming Gifts Given
Together with Fr. Michael Duignan, Chaplain at St. Angela's College, I am happy to welcome you to this Mass of thanksgiving on the occasion of your graduation. I welcome also your family members, and members of the College staff.
It is good to give thanks to the Lord. It is not just a formality. You have chosen to be here as an expression of your faith in God, who is the source of every gift. I think it is also important for the College that we have this celebration as an expression of the Christian inspiration which, for many years, has inspired the work of the College. In a certain sense, it is only when we know where we are coming from, that we can ever know where we are going.
I'm sure, like me, many of you have received a gift from time to time and wondered "what am I going to do with this?" While children like to get gifts that will amuse them, parents are great at giving their children gifts that will be "useful". Obviously there are gifts that we couldn't imagine using, but there are also those gifts that are so filled with possibility that we don't know where to start with them.
In the Synagogue, Jesus introduces himself in these words:
"The Spirit of the Lord has been given to me"
And then he goes on to say what this will mean in his life:
• good news to the poor,
• liberty to captives,
• sight to the blind,
• freedom for the oppressed
• the proclamation the Lord's favour
He knew the nature of the gift that He had received and he was quite clear about how he was going to use it. The we are told "all eyes in the synagogue where fixed on him" as he began to speak, "This text is being fulfilled today even as you listen"
Well, today, all eyes are fixed on you. The Spirit of the Lord has been given to you. I don't know how often you think about that. The Spirit whom you received at your Confirmation wasn't just for the day. It was for life. Maybe if we all thought about that a bit more, we might be more confident and less easily discouraged when things go pear-shaped, as they inevitably do from time to time.
An essential part of giving thanks is in what we do with the gift that we have received. Some of you are called to be teachers, or nurses, chaplains or mediators. The gift that you have received is also your vocation.
Who knows – through what you do and especially who you are:
• whose eyes will be opened in the years ahead
• who will be enriched out of the gift you have received
• who will be set-free, from ignorance, prejudice or disease
• who will come to know the favour of the Lord.
The Spirit of the Lord has been given to you. Today these words are being fulfilled in you. Don't leave your gift unopened. Use it to serve others and, in that way, to give glory to God.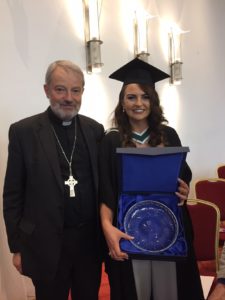 Shauna Greene (Roscommon) receives the St. Asicus Award for excellence in Religious Education, from Bishop Kevin Doran, on the occasion of her graduation today from St. Angela's College NUIG