Summerhill College Celebrates Famous Past Student – Edward J Flanagan
The Life and Legacy Edward J Flanagan born in Leabeg, Ballymoe, Co Roscommon in 1886 and student at the College of the Immaculate Conception, Summerhill, Sligo from 1901 to 1904 was the topic of a public lecture given at the College last week.
The lecture was delivered by Mr Thomas J. Lynch, historian and director of community programmes at Boystown, Omaha, Nebraska, U.S.A. Mr Lynch knowledgably introduced those gathered to the life story of the College's famous past student from his early life in Ireland to his journey to America, from his formation as catholic priest to his work with the homeless of his day that eventually led him to found the now world famous and highly successful Boystown movement. Father Flanagan's innovative work in youth care and education was eventually immortalised in the highly acclaimed Oscar winning 1930's movie "Boystown" which starred Spencer Tracy and Mickey Rooney.
Recently Father Flanagan's cause for canonisation as a saint was opened by the Archbishop of Omaha. He was declared Servant of God in 2012 and in June 2015 the process to make him a saint advanced to the Congregation for Saints in Rome.
Reflecting on Mr Lynch's lecture, Head of Education at St Angela's College, Mr Eugene Toolan, described Edward Flanagan as "a man ahead of his time whose profound insights in the area of human anthropology, education, child and youth care, sociology and family deserve to be study in depth and made know more widely".
Summerhill College Principal, Mr Paul Keogh expressed the "pride of the entire college community in having Father Flanagan as a past student" and noted to the members of the College boys' choir, who entertained those gathered, "how one person who was just like them – a student at the College – could make such a difference to the lives of so many for the best."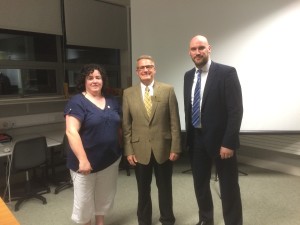 Photo: Ms Fidelma Croghan (Ballymoe), Mr Thomas Lynch (Boystown, USA), Mr Paul Keogh (CIC, Summerhill)