taize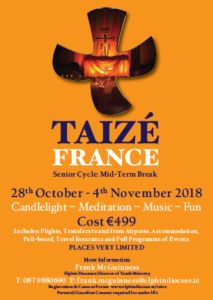 click on image above to download poster
POST-PRIMARY SENIOR CYCLE PILGRIMAGE
TAIZÉ – FRANCE
28th October – 4th November, 2018
OPEN TO SENIOR CYCLE STUDENTS FORM POST-PRIMARY SCHOOLS
IN THE DIOCESE OF ELPHIN
REGISTER EARLY TO SECURE A PLACE
PLACES ARE VERY LIMITED
Brochure with more details about Taizé and planned trip available HERE
click on image above to download brochure
The following must be submitted as soon as possible in order to reserve a place:
€100 non-refundable deposit
Completed Registration Form, available HERE
Complete Parental Consent Form, available HERE
Copy of Passport Details (please email or txt picture of details to Frank McGuinness, contact details below)
Agreement to take part in two preparatory meetings/events – Details later
PACKAGE DETAILS
The above price Per Person Sharing is inclusive of the following:
We depart Sunday 28th October and return on Sunday 4th November. Flights are from Dublin Airport to Lyons Airport in France. Bus transfer will be provided to and from both Airports. Cost inclusive of full travel, insurance, accommodation and full-board is €499. You will need a valid passport, and a European Health Insurance Card. We shall be staying in dormitory accommodation. Hand-Luggage only included in price. If you require a check-in bag please get in contact. There are shower and washing facilities on site. It can be hot in France at that time of year, but it can also rain. Come prepared!
Opportunities for shopping are minimal. Limited amount of spending money required.
A detailed itinerary will be issued along with travel essentials etc. in due course.
In the meantime if you have any queries please contact:
Frank McGuinness on 087 9880690 or at [email protected]
Payment Details
Please make cheques/drafts payable to ELPHIN YOUTH MINISTRY and send to the following address:
Frank McGuinness,
Director of Youth Ministry,
St. Mary's, Temple Street,
Sligo.
Alternatively IBAN and BIC numbers are available for Electronic Fund Transfers (EFT).