Welcome for Additional Deputy Principal at Summerhill College
The Board of Management of the College of the Immaculate Conception, Summerhill, Sligo is pleased to announce the appointment of Mr. Kenneth Donagher as an additional Deputy Principal for the college. Mr. Donagher will take up the post in September 2018.
The position has been made possible by changes brought about in the 2017 Budget whereby schools with enrolment figures of over 900 students were granted a third Deputy Principal. Deputy Principals assist the Principal in the day to day management of the school.
A native of Easkey, Co. Sligo, Kenneth has been a teacher in Summerhill College for nearly three decades. He holds a Bachelor of Technology (Education) degree from Thomond College of Education, and a Master of Education Degree (First Class Honours) from the University of Limerick. During his time in Summerhill Kenneth has been involved in leading several areas of school development and more recently he has had a lead role in developing the ICT infrastructure for the school, as well as being a Year Head.
Responding to his appointment Mr. Donagher said: "I am really looking forward to working with the senior management team in this new role. I am committed to making every effort to contribute to the goal that every student has the opportunity to develop their talents to the full in our school."
Welcoming the appointment, The College Principal, Mr Paul Keogh said: "I am delighted to welcome Mr Donagher to the Senior Management Team of the college. He joins Ms. Maura Murphy, Mr. Eoin Moriarty and myself as we continue to work on a daily basis to develop the college as a professional learning community in which academic excellence in a caring environment is to the fore. Mr. Donagher brings with him significant experience as he has been part of the middle management structure of the college for over 12 years. His appointment will have huge benefits for the senior management team and the entire college community."
The Patron of the College, Bishop Kevin Doran, said: "I am very happy to hear that Mr Kenneth Donagher has been appointed by the Board of Management of the College of the Immaculate Conception as Deputy Principal. I want to welcome Kenneth as he joins the senior management team at the College. He brings, in particular, significant technological skills and pastoral care experience to the role. This will be of great assistance to both students and staff into the future."
The Chairperson of the Board of Management, Dr Michael Duignan noted how "the appointment of a third Deputy Principal means, in particular, that as the College grows adequate management provision will be in place to ensure that all students at Summerhill College receive the highest possible academic experience and personalised pastoral care."
Monday April 16th 2018
Press Release from the Board of Management of the College of the Immaculate Conception, Summerhill, Sligo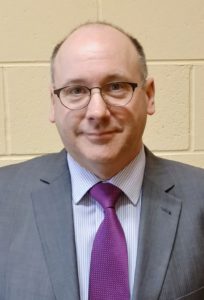 Mr Kenneth Donagher