Welcome for New Deputy Principal at Coláiste Chiaráin, Athlone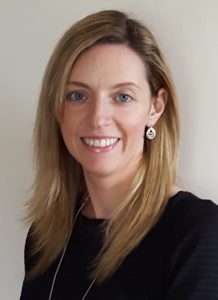 The Interim Board of Management of Coláiste Chiaráin, Athlone has announced the appointment of Ms Marguerite Quinlan as Deputy Principal of the College. Ms Quinlan will take up the post at the beginning of September 2017.
Originally from Tipperary, Marguerite has worked in St Tiernan's Community School, Dundrum, Dublin for the last twelve years as a Business and Accounting teacher, teaching across a range of programmes. She holds a B.Comm from UCC, a HDIP in Education from NUI Galway and a Master's Degree in Education (School Leadership and Management) from Trinity College, Dublin. She has been involved in and led several areas of School Development Planning while in St Tiernan's Community School such as School Self Evaluation, mentoring and supporting Newly Qualified Teachers, active teaching methodologies and Restorative Practice. She is currently ICT coordinator in the school and has previously coordinated the ERASMUS programme and Book Rental Scheme. Marguerite is also a member of the Education Department in Maynooth University where she is tutor to student teachers completing the Professional Master of Education (PME).
Responding to her appointment Ms Quinlan said: "I am honoured to be appointed as the first Deputy Principal of Coláiste Chiaráin. Through this position, I aim to empower all students to achieve to their maximum abilities in a school with a positive and strong ethos. I will commit to maintaining the highest standards of teaching and learning and share in the vision of providing a holistic education for all students. I look forward to working with Mr Brendan Waldron (Principal), the College Board of Management, the Diocese of Elphin and all students, parents and staff of St Aloysius College and St Joseph's College in building a school that values and respects students and allows for the development of positive relationships with all educational stakeholders. I am also very much looking forward to working with Mr Brendan Waldron over the next few months, and over the course of the Summer, to prepare for the opening of the new school."
The Patron of the College, Bishop Kevin Doran, said: "I am very happy to hear that Marguerite Quinlan has been appointed by the Board of Coláiste Chiaráin as Deputy Principal. This marks another important step in the development of our new co-educational Diocesan College which will open in September. I want to welcome Marguerite as she joins the senior management team alongside the Principal, Mr Brendan Waldron. Ms Quinlan brings significant experience to her new role both as an experienced teacher and in her work of supporting those who are new to the teaching profession. These will be among her key tasks in the years ahead. Coláiste Chiaráin is intended to ensure that children in the area to the West of Athlone will have the option, in their own community, of a Catholic education to the highest academic standards. I look forward very much to working with the new senior management team in Coláiste Chiaráin, led by Brendan Waldron and Marguerite Quinlan as they make the final arrangements for the opening of the College in September."
The Chairperson of the Interim Board of Management of Coláiste Chiaráin, Mr Frank Smith noted how the appointment of Ms Quinlan as Deputy Principal marked another significant and exciting milestone in the development of the new College. He said: "I congratulate Ms Quinlan and wish her well in working with the principal and staff in leading and shaping the College into the future. This is an exciting time for education in West Athlone and South Roscommon, and our aim is to have the best educational facilities for all the boys and girls of the area."