World Meeting of Families 2018


WELCOME!
Welcome to the World Meeting of Families 2018 page for our diocese. We hope to share below just some of the resources available to parishes, schools and families as we prepare for the World Meeting next August. While we will share as much as possible here, please do remember to regularly check out the main website of the World Meeting http://www.worldmeeting2018.ie/en/ where you will always find the most up to date information.

WMOF2018 PODCAST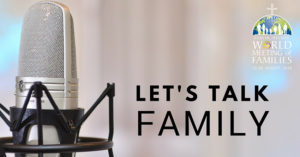 Listen to regular podcasts from the WMOF2018 Media Team by clicking on the photo to the left.

AMORIS: LET'S TALK FAMILY! LET'S BE FAMILY!

Every parish in our diocese has been given a hard-copy guide with practical ideas as to help parishioners, schools and families prepare for the World Meeting as part of the Amoris Programme. This guide is called "Practical Initiatives for Popular Moments" and you can download it here.
The Amoris "Let's Talk Family"! catechetical programme will be offered to parishes during Lent 2018. This programme involves a three guided sessions to discuss and reflect on family life, based on Pope Francis' The Joy of Love. See poster here for dates and venues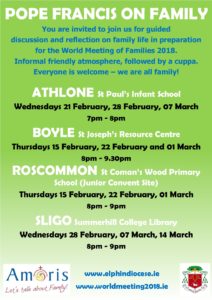 Amoris has a multi-media approach including video clips, studio programmes and animations for children. Listen to Petra Conroy talk more about this Amoris Programme https://soundcloud.com/user-754239044-892578831/wmof-lets-talk-family-podcast-episode-one-18-october-2017
OFFICIAL PRAYER AND HYMN

The official WMOF2018 prayer can be found here.
The official WMOF2018 hymn with video, lyrics, sheet music and downloads can be found here. Have you encouraged your parish or school choir to learn the hymn yet?

WMOF2018 ICON OF THE HOLY FAMILY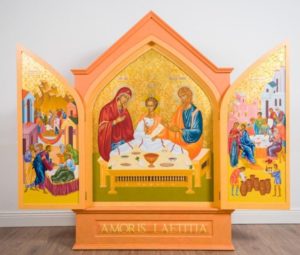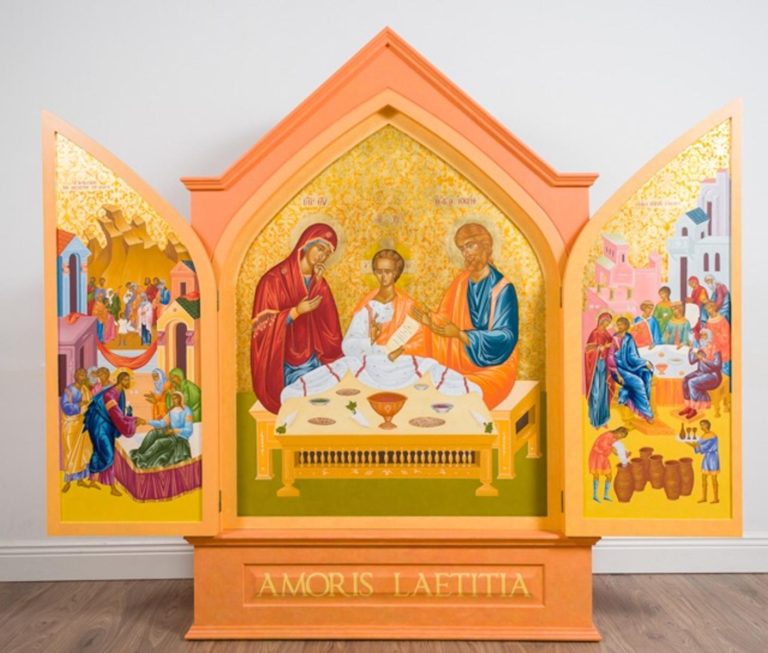 The icon of the Holy Family was specially commissioned by WMOF2018, written by iconographer Mihai Cucu, and assisted by the Redemptoristine Sisters of the Monastery of St Alphonsus, Iona Road, Dublin, as part of their ongoing prayer for families. The icon was unveiled and anointed on the 21st August 2017, during the launch of the one-year programme of preparation at the National Novena in Knock, Ireland.
The Icon visited our diocese in October 2017 at the Diocesan Pastoral Gathering and St Joseph's Church, Boyle and will return to our diocese on pilgrimage from 22nd May – 1st June 2018 in three churches throughout the diocese (see poster below). To read more about this beautiful Icon, click here to visit the WMOF2018 website

WMOF2018 Petition Box
As part of our preparations for the World Meeting of Families 2018, the organisers have given each diocese a beautiful wooden petition box. This box will visit each parish from early November until August 2018. You are invited to write a petition and place it in this box. The petitions will then be sent to contemplative orders who will remember each petition in their prayers over the coming year.
CLICK HERE TO DOWNLOAD PETITION BOX SCHEDULE
For all information relating to the World Meeting of Families 2018, visit their website www.worldmeeting2018.ie
THOUGHT FOR THE DAY ON SOCIAL MEDIA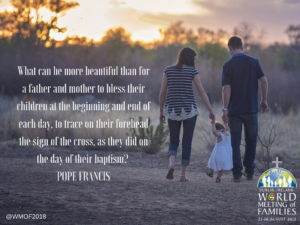 There are many "Thought for the Day" images and quotes you may wish to use at home, in your school, share on your own social media page or send as a message to a friend or family member.
WMOF2018 is on Facebook, Twitter and Instagram (search for @WMOF2018). Follow these social media pages and encourage others to do the same!
VOLUNTEER FOR THE WMOF 2018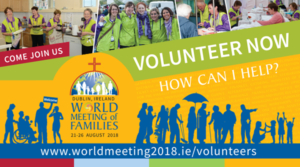 Why not consider volunteering for the World Meeting of Families 2018? Read up on what's involved and how you can be part of this exciting event!
ATTEND THE WMOF2018 IN AUGUST
Dublin, Ireland, has been chosen by Pope Francis to host the next World Meeting of Families from 21-26 August 2018, guided by the theme "The Gospel of the Family: Joy for the World". Held every three years, this major international event brings together families from across the world to celebrate, pray and reflect upon the central importance of marriage and the family as the cornerstone of our lives, of society and of the Church. The event has at its heart the following key moments:
21 August 2018, a National Opening of WMOF2018, which will take place simultaneously in all the different dioceses of Ireland.
22 to the 24 August 2018, a three-day Congress. Each day will reflect on the theme "The Gospel of the Family: Joy for the World" chosen by the Holy Father and will include an enriching programme for adults of keynote speakers, workshops, talks, testimonies and discussions; an engaging and exciting programme for young people as well as fun activities for children. The Congress will also include daily celebration of the Eucharist, prayerful activities, exhibitions, cultural events and musical performances.
Saturday 25 August 2018, a Festival of Families, comprising a reflective concert style event within a prayerful and joyful atmosphere, in which personal stories of faith will be shared by families from all continents.
Sunday 26 August 2018, WMOF2018 will close with a solemn Eucharistic Celebration, that will gather thousands of people from Ireland and all over the world.