Young Adult Pilgrimage to Assisi & Rome 2018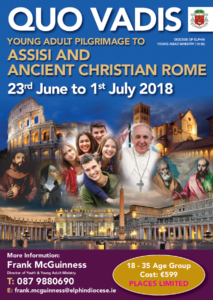 YOUNG ADULT PILGRIMAGE
ASSISI – ANCIENT CHRISTIAN ROME
23rd June – 1st July, 2018
OPEN TO YOUNG ADULTS BETWEEN THE AGES OF 18 AND 35
MUST BE AT LEAST 18 YEARS BY 22nd June 2018
LIMITED PLACES AVAILABLE
REGISTER EARLY TO SECURE A PLACE
The following must be submitted as soon as possible in order to reserve a place:
• €100 non-refundable deposit
• Completed Registration Form, REGISTRATION FORM AVAILABLE HERE
• Copy of Passport Details (please email or txt picture of details to Frank McGuinness, contact details below)
• Agreement to take part in two preparatory meetings/events – Details later
PACKAGE DETAILS
The overall cost of the package per person sharing is €599
The above price Per Person Sharing is inclusive of the following:
• Return flights from Dublin to Rome, June 23rd – July 1st.
• All bus transfers to and from Rome Airport and between Rome and Assisi.
• Half board accommodation (Bed, Breakfast and Evening Meal) in Assisi and Rome
• Airport Tax, Government Levy and insurance.
• Checked-in Bag 20Kg plus hand luggage
• Itinerary will include guided visits to all significant sites in Assisi and Rome with detailed spiritual and cultural programme.
Single Supplement is an additional €250
As with other Diocesan Pilgrimages, parishes may be in a position to partially fund the cost of the trip. Please enquire accordingly.
A detailed itinerary will be issued along with travel essentials etc. in due course.
In the meantime if you have any queries please contact:
Frank McGuinness on 087 9880690 or at [email protected]
Payment Details
Please make cheques/drafts payable to ELPHIN YOUTH MINISTRY and send to the following address:
Frank McGuinness,
Director of Youth Ministry,
St. Mary's, Temple Street,
Sligo.
Alternatively IBAN and BIC numbers are available for Electronic Fund Transfers (EFT).
For More Information Please contact:
Frank McGuinness,
Director of Youth Ministry
St. Mary's
Temple Street
Sligo
Tel: 087 9880690
Email: [email protected]