2020 – Parish Youth Ministry Leadership Training Programme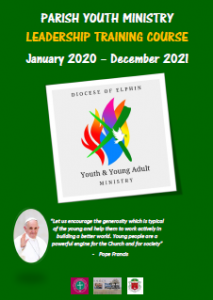 Elphin Youth & Young Adult Ministry is planning to run a New and Reformatted Parish Youth Ministry Leadership Training Course in order to offer parishes the opportunity to have trained parish volunteers who will be in a position to support their priest and parish with youth and young adult ministry. The course will run between January 2020 and December 2021 over 9 weekends. See link below to attached brochure outlining the details and Application form. Deadline for applications is 20th December 2019
2020 – Parish Youth Ministry Leadership Training Course – Brochure & Application Form
Course Structure and Content:
This delivery of this model is different from what we had originally designed and will be run over 9 weekends (Saturdays & Sundays) between January 2020 and December 2021. Here are the actual dates and training topics being offered:
Weekend 1: 11th & 12th January 2020 – Topic: The Principles of Youth Ministry
Weekend 2: 16th & 17th May 2020 – Topic: Foundations of Ministry Leadership
Weekend 3: 19th & 20th September 2020 – Topic: Skills for Christian Leadership
Weekend 4: 28th & 29th November 2020 – Topic: Practices for Youth Ministry
Weekend 5: 9th & 10th January 2021 – Topic: Evangelisation & Catechesis
Weekend 6: 17th & 18th April 2021 – Topic: Prayer & Worship
Weekend 7: 11th & 12th September 2021- Topic: Justice & Service
Weekend 8: 23rd & 24th October 2021- Topic: Pastoral Care
Weekend 9: 27th & 28th November 2021- Topic: Final Orientation
The course equips participants with knowledge, skills, practical tools and techniques needed for creative and comprehensive ministry with youth in parishes and other settings. It nurtures the personal, spiritual, theological and ministerial growth of leaders for ministry and develops confidence, competence and credibility for effective youth ministry.
** Safeguarding Training will also be provided early on in the programme.
Facilitation & Accreditation: The teaching faculty team is led by Fr. Michael Kelleher CScR and includes lay people, priests and religious, all of whom have vast experience in Youth Ministry. The course is accredited by St. Mary's University College, Queens University, Belfast.
Venue: The Venue for the course will be in Knock Shrine and each day will begin at 9:30 and end at 5 pm (approx.) Typically there will be prayer elements and other activities on Saturday evenings of each weekend, so therefore you will be encouraged to stay over. However should you wish to commute each day that's fine also. Food and overnight accommodation are included in the cost.
Costs: As with the previous model the costs of the training programme will be covered by your parish and will be €1,800 (€300 less than previous course) per person for the entire course. This fee will include all associated costs (Venue, Accreditation Fee, Administration, Materials, Resources, Food and Accommodation, etc.). However those who participate will need to make their own way to and from the venue.
Practical Experience: As with the previous course you will be expected to get involved in your parish from the beginning in order to gain practical youth ministry experience. I will support you in this and it will be agreed with you and your Parish Priest as to what tasks/programmes you wish to get involved in. It is envisaged that the time commitment to this practical element will be between 1 to 2 hours per week during the academic year.
Commitment to Parish: As with the previous course, given the investment by the parish, each participant who successfully completes the course should be willing to volunteer in the role for a minimum of three years subsequent to its completion.
On-going Support: As well as the support received from the course tutors, the Director of Youth & Young Adult Ministry will also journey with you and support meetings will be scheduled both individually and at group level to ensure any challenges you are facing are addressed.
For More Information Please Contact:
Frank McGuinness
Director of Youth-Young Adult Ministry & Vocations
Diocese of Elphin
St. Mary's
Temple Street
Sligo
087 9880690
[email protected]