Bishop Christopher Jones RIP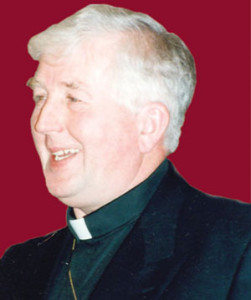 Bishop Christopher Jones RIP was born in Rathcroghan, Co. Roscommon March 3rd 1936. He is the second youngest of a family of eleven. He was educated at Summerhill College, Sligo and St. Patrick's College, Maynooth, and was ordained to the priesthood on 21st June, 1962.
In 1962-1963 he taught part-time in St. Muredach's College, Ballina, while studying for a Higher Diploma in Education at UCG.
He returned to teach at Summerhill College, Sligo in 1965. In 1971 he spent over a year as Archivist at St. Mary's, Sligo, while also serving as Chaplain of St. Columba's Hospital, Sligo. In 1972-1973 he studied for a Social Science Diploma at UCD.
In 1973 he returned as first director of Sligo Social Services Centre where he served until his appointment as Administrator of the Cathedral parish in 1987. During that period he also served as spiritual director to the students of Summerhill College from 1973-1978 and afterwards as Curate at Rosses Point, Sligo. For much of this time he also worked as diocesan vocations director. He served for many years as chairperson of the National Council for Travelling People and is the advisor to the Minister for the Environment on matters relating to the accommodation of Travelling People. Canon Jones' appointment as Bishop of the diocese was announced on March 24th 1994. His successor, Bishop Kevin Doran, was ordained Bishop of Elphin on 13th July 2014.
Bishop Christopher Jones died on Friday 18th May 2018 following a long illness. He was laid to rest in the grounds of the Cathedral of the Immaculate Conception, following his Requiem Mass on Tuesday 22nd May 2018. May he rest in the peace of Christ.