Bishop Kevin launches new format "Angelus"
On Wednesday this week, Bishop Kevin launched the new format "Angelus" diocesan magazine.
"The Angelus is changing. No – I don't mean the Angelus on the Radio. The Angelus magazine, which started out as a broadsheet and which, for some years now has been a large-format glossy magazine, is now being published in a new easy-to-read A4 format.
In these days of Internet and Facebook, you might ask, do we still need a Diocesan magazine. There are a few very good reasons why the Angelus is still an important means of communication in the diocese. In the first place, the printed word tends to stay on people's coffee tables and might still be picked up and read weeks after it is published. Secondly, the printed version of the Angelus is a historical record, which will be there for the future as part of the documentary history of our diocese, long after web-pages have changed.
I take this opportunity to thank all those who contribute to making the Angelus what it is, by providing photos, news and opinion pieces. The new format Angelus carries a recommended contribution of €2. I would encourage as many parishioners as possible to make the contribution and to read the Angelus. The editorial team, led by Fr. John Cullen, will make sure it is interesting and informative".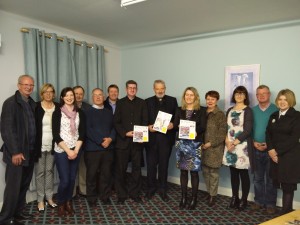 (Bishop Kevin is pictured here launching the new format Angelus with members of the Boyle Parish Pastoral Council. Picture Fr John Coughlan)