Saint Valentine's Day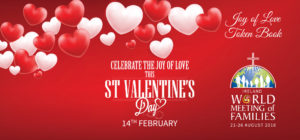 The World Meeting of Families is inviting couples to share special tokens of love with a difference for Saint Valentine's Day this year.
Following Pope Francis' calls to celebrate Saint Valentine's Day in a more meaningful way, WMOF2018 is inviting couples to think beyond the traditional box of chocolates or bunch of flowers to gifts that will actually help them grow in their love.
In his document Amoris Laetitia (The Joy of Love), Pope Francis refers directly to Saint Valentine's Day as an opportunity for couples to celebrate the importance of romantic love by gifting their time and attention to one another rather than simply relying on the more commercial approaches to the saint's day. This is why, as part of the preparations for World Meeting of Families in Ireland in August, the World Meeting of Families 2018 are inviting individuals and couples to "Celebrate the Joy of Love this St Valentine's Day" and to mark this day in a number of special ways.
WMOF2018 have produced a book of free gift tokens that people can give to their loved ones. This year's tokens include invitations to share:
A journey down memory lane – taking time to remember how we met
A special meal cooked by a loved one
A technology free evening together
Time together to pray
A hand-in-hand walk together
Loads of tender hugs
A family outing
A prayer that those looking for love will find that special someone
The tokens were introduced last year and proved really popular. They are being offered again this year in English and Irish with two new tokens included.
The WMOF2018 are asking couples to acknowledge how precious their time is together and asking them to pick up a book of tokens and a special card to go with them and to share these simple acts of love and kindness with each other.
WMOF2018 are also inviting people to visit the Shrine of Saint Valentine in Whitefriar Street Church in Dublin and to pray through Saint Valentine's intercession to grow in the love they have already found.
The tokens are free and are available in parishes across the country as part of the WMOF2018 'Amoris Let's Talk Family! Let's be Family!' programme.
Given that St Valentine's Day falls on Ash Wednesday this year, it is a good a year as any to think outside the chocolate box!
Background information on Saint Valentine and his relics in Dublin:
Holy relics of Saint Valentine are interred in the Carmelite Church in Whitefriar Street, Dublin, Ireland. Saint Valentine, a priest in ancient Rome, is regarded as the patron saint of couples in love, preparing for marriage and of married life. According to tradition, Saint Valentine was martyred on 14 February 250 AD. In 1836 relics that were exhumed from the catacombs of Saint Hippolytus on the Via Tiburtina, near Rome, were identified with Saint Valentine. These relics were placed in a casket, donated by Pope Gregory XVI, and transported to the Whitefriar Street Carmelite Church in Dublin where they continue to be venerated by the faithful to this day.