Reading and Praying with Saint Paul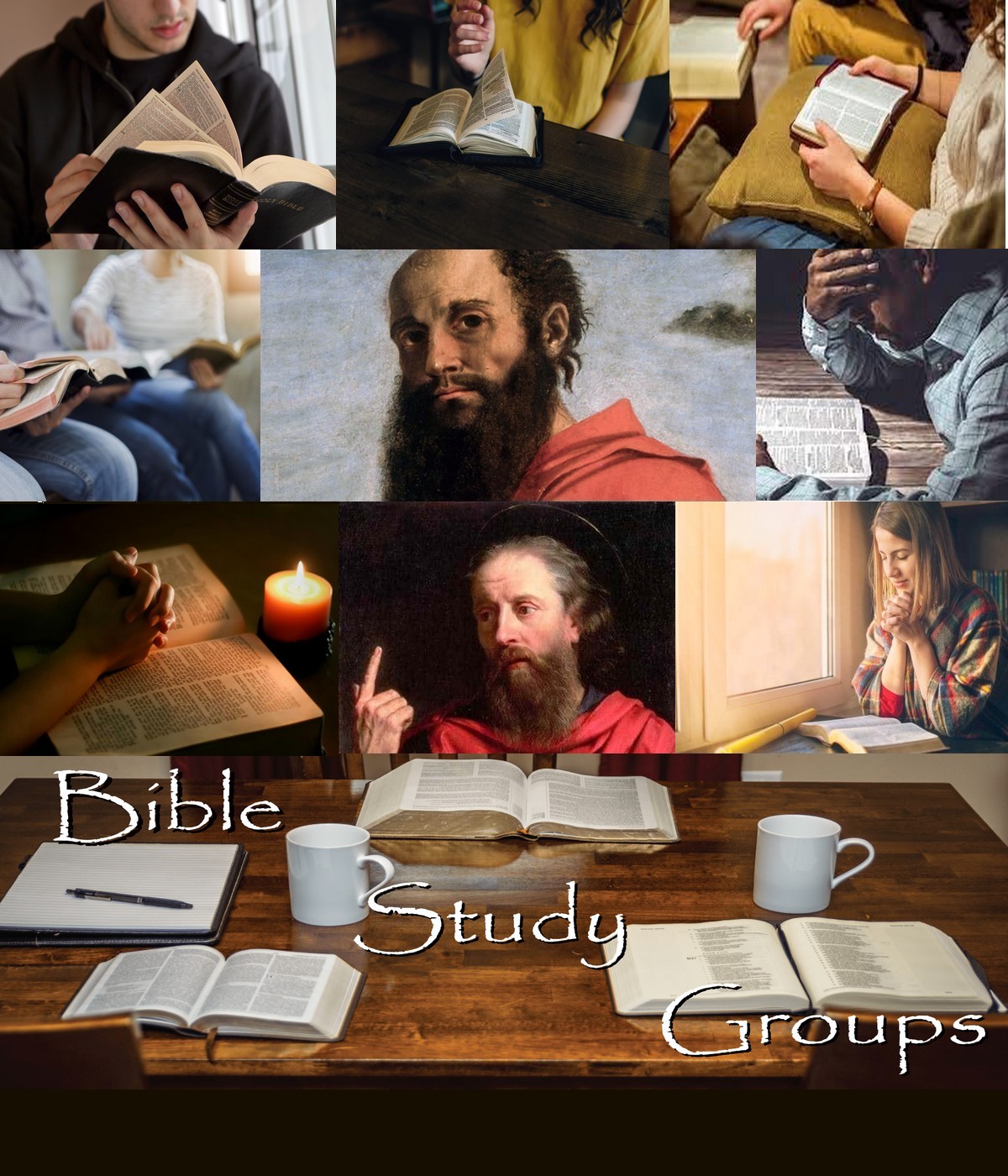 IN-PERSON OPPORTUNITY
Introduction
Over coming weeks a number of Bible Study /Scripture Sharing Groups will form in many parishes throughout the diocese. The majority will range in size from eight to fourteen adults, women and men who enjoy discussion, learning and reflection.
This development follows on from a highly successful and enjoyable pilot initiative in four parishes (St. Joseph's Sligo, Ballinameen, Castlerea and Roscommon) during Lent
Each group will be accompanied by a trained facilitator and catechist and in so far as clergy are free to participate, a priest or deacon of the diocese. Furthermore, in so far as resources permit, each participant will receive a loan copy of a bible and a short booklet to support their engagement over the five weeks of the initiative.
What makes this initiative very interesting and engaging, in addition to the gentle learning, is the way it helps participants reflect on our own lives and challenges, our image and experience of God and our understanding of the world we live in. We will also take a little time in prayer with passages selected from the above letters.
You, and a friend, are most welcome to join any group that suits you, spaces permitting, on a 'come and see' basis, especially if the following objectives speak to you?
Objectives
To help participants come to know St. Paul as a friend and spiritual advisor
To encourage and support bible reading (bibles will be provided)
To stimulate learning and faith-enquiry in a gentle, light-hearted and non-threatening way
To offer insight and generate discussion as to St. Paul's relevance for our lives
To support short periods of group prayer (led and directed by facilitators)
To foster the bonds of friendship between Catholics and other people of goodwill who choose to participate.
Elements
5 sessions, each one-hour to one-and-a-quarter hours in length.
Host Parishes, Facilitators, Dates, Times & Venues

ARDCARNE
The Parish Meeting Room
The Parochial House,
Cootehall,
Co. Roscommon
Facilitator: Fr. Brendan McDonagh SPS PP
To be communicated.
ATHLEAGUE-FUERTY
Athleague NS
Athleague
Co. Roscommon
F42 VF95
Facilitators: Teresa Melia, Mary O'Brien Healy & Fr. Christopher Edebianga
Thursdays (8 – 9.15/9.30 pm)
6th, 13th, 20th & 27th October & 3rd November
BOYLE
The Committee Room
St. Joseph's Church
Abbeytown
Boyle
Co. Roscommon
F52 TY46
Facilitators: Ian and Mary Neylon
Tuesday mornings after 10 am Mass (10.30 – 11.30 am)
4th, 11th, 18th & 25th October & 8th November.
DRUMCLIFFE & MAUGHEROW PARISHES
The Meeting Room
Old School
Rathcormac
Co. Sligo
F91 XT57
Facilitators: Celia Dunleavy, Conrad Forzeh & Clare Devaney
First Session: Monday 17th October (7.00 – 8.15 /8.30 pm)
Group to decide on dates and times of remaining sessions.
KILGLASS-ROOSKEY-SLATTA & TARMONBARRY PARISHES
The Parochial House or Rooskey Community Centre (pending numbers)
Rooskey
Co Roscommon
N41 X0P0
Facilitators: Fr. Evaristus Nkede & Justin Harkin
Mondays (7.30 – 8.30 / 8.45 pm)
10th, 17th, 24th, 31st October & 7th November.
KNOCKCROGHERY-LECARROW-RAHARA
Culleen Hall
Kilkeenrevagh
Knockcroghery
Co. Roscommon
F42 EN12
Facilitators: Fr. Joseph Ali and James Mullooly
Fridays (Fortnightly), 8 – 9.00/9.15 pm
7th & 21st October, 4th & 18th November & 2nd December.
ORAN-BALLINAHEGLISH-CLOVERHILL
Ballinaheglish Community Centre
Runnamoat
Donamon
Co. Roscommon
F42 W322
Facilitators: Ann Carroll & Fr. Pravin Dhason
Wednesdays (8-9 / 9.20 pm)
2nd, 9th, 16th, 23rd & 30th November
ROSSES POINT
S.N. Réalt na Mara,
Rosses Point,
Co. Sligo.
F91 TR29.
Facilitator: Fr. Michael Drumm
Tuesdays (7.30 – 8.45 / 9 pm)
25th October & 1st, 8th, 15th & 22nd November
ST. ANNE's SLIGO
Parish Meeting Room
St. Anne's Church
Cranmore Road
Sligo
F91 R250
Facilitators: Patricia McCaffrey & Fr. Pat Lombard PP
Mondays (8 – 9 /9.20 pm)
17th, 24th & 31st October and 7th, 14th & 21st November.
STRANDHILL/RANSBORO
Ransboro Parish Centre
Star of the Sea Church
Ransboro
Co. Sligo
F91 YC97
Facilitators: Fina Golden & Gerard Kelly
Mondays (8 – 9 /9.20 pm)
26th Sept. & 3rd, 10th, 17th & 26th October
STROKESTOWN & TULSK PARISHES
The Parochial House
Church Grounds
Strokestown
F42 W623
Facilitators: Ms Josephine Stroker & Gerardine Malone
Tuesdays (8 – 9 /9.20 pm)
4th, 11th, 18th & 27th October & 1st November
Group Size
Ideally groups will range in size from eight to fourteen participants.
This is to facilitate enquiry, sharing and getting to know one another.
Commitment (participants)
In addition to attending sessions participants will be encouraged to give one hour to reading, enquiry and reflection between sessions. This will greatly enrich discussion.
Course outline
Session 1 – Introduction (getting started)

Facilitators welcome participants and invite God's blessing on the group's time together
Facilitators offer introduction to course
Presentation on St. Paul and his writings (20 minutes)
Discussion based on presentation and participants perceptions of St. Paul
Facilitators introduce participants to bible reading (just a few paragraphs!) for next session
Closing prayer service drawing on a passage from St.Paul's writings and the group's earlier discussion.
Session 2 – 5 inclusive

Word of welcome and opening prayer
Everyone given an opportunity to share from their experience of engaging with St. Paul / their reading during the week
Presentation from facilitators
Guided Discussion (exploring how Paul's teaching is good news today)
Introduction to reading for next session (just a few pages!)
Closing Prayer Service.
Follow-up Opportunity
Should participants enjoy the experience follow up courses will be run during Lent 2023.
Cost
A donation of €15 to €20 would be appreciated. This will assist the diocese recoup the cost of bibles and booklets and contribute to light and heat costs.
Facilitators very kindly give their time free-of-charge.
Reading Material
Participants in the habit of reading from the bible are encouraged to use their preferred bible between sessions.
During sessions all will be encouraged to use the bibles provided. Thus everyone will be sharing the same translation and footnotes.
All participants will also receive a short booklet containing additional reading material (just a few pages per session) and questions to prompt reflection and prayer.
Booking of Places
To be assured of a place please communicate your interest in participating to the priest or parish secretary of the host parish or to Justin in the Elphin Diocese's Pastoral & Faith Development Services Office.
More specific information will be posted as it becomes available.
Further Enquiries
Please ring, text or email Justin on 087 6171526 / [email protected]
Updated 25/10/2022.