Lough Derg Pilgrimage 2017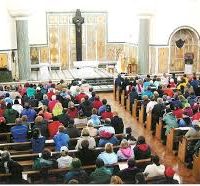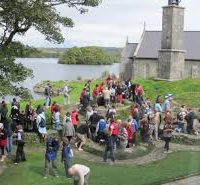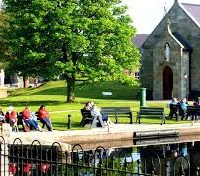 Introduction to Lough Derg
St. Patrick's Purgatory, Lough Derg, is among the oldest centres of Christian Pilgrimage in Western Europe, dating back to the sixth century. It lies about four miles north of the village of Pettigo in County Donegal, in the Diocese of Clogher, and is renowned in Irish Christian tradition since the time of St. Patrick.
Lough Derg is a special place of peace and personal challenge and has been receiving pilgrims continuously for well over 1000 years.
For many it is also a place of great healing, an extraordinary place where profound communion between God and the individual takes place and usually is unseen and unheard by anyone except the person themselves.
Elphin Diocesan Pilgrimage 2017
On the weekend of Friday June 16th to Sunday June 18th 2017 Bishop Kevin Doran plans to lead an Elphin Diocesan pilgrimage to Lough Derg.
The pilgrimage is reserved to adults over eighteen years of age who are in good health and who do not any disability or health condition that could give rise to difficulties for the person over the course of the pilgrimage.
Elphin Pilgrimage
Dates & Times:
Friday June 16th to Sunday June 18th 2017

Pilgrims are asked to be at the Island for 1 pm on Friday June 16th.
They will depart the Island at 10.15 am on Sunday June 18th.

Spiritual Directors:

Bishop Kevin Doran
Fr. Gerard Cryan (Summerhill College, Sligo)
Fr. Pat O'Toole CSSp (Ballintubber-Ballymoe Parish)
Information on Lough Derg:

Please visit: www.loughderg.org

Practical
Information:
Please consult the Lough Derg Three Day Brochure by clicking here.
Cost per person


(excluding travel)

:
Senior Citizen's: €65.00

Other Adults: €70.00

Payable on bus or, for those travelling by car, on arrival at Lough Derg.
Travel to and from Lough Derg
Pilgrims are welcome to make their own travel arrangements to and from Lough Derg
or avail of a Special Pilgrim Bus Service, pending available places.
Pilgrim Bus Schedule and Booking Arrangements

BUS CANCELLED June 13th 2017
Subject to demand the following bus service will be provided.

Friday
Time
of
Departure
Parish

Pick-up
&
Drop Off
Point

Sunday
Time
of
Arrival
Cost
Adult
Return

08.45
Athlone
St. Peter's & Paul's Church
14.15
€30.00
09.00
Kiltoom & Cam
Church of the Risen Christ
14.00
€30.00
09.15
Knockcroghery
St. Patrick's Church
13.45
€30.00
09.30
Roscommon
Sacred Heart Church Car Park
13.30
€30.00
9.45
Kilbride
(Four-Mile-House)
St. Brigid's Church
13.15
€25.00
10.00
Tulsk
Tulsk Filling Station
13.00
€25.00
Short Break in Boyle
10.45
Boyle
St. Joseph's Church
12.25
€25.00
11.00
Castlebaldwin
Hunt Service Station Castlebaldwin
12.05
€25.00
11.30
Sligo
Summerhilll College Car Park
11.45
€20.00
11.45
Drumcliffe
St. Colmcille's Church
11.30
€20.00
12.00
Grange
Church of Mary Immaculate
11.15
€20.00
12.10
Cliffoney
Church of St. Molaise
11.oo
€20.00
13.15
Lough Derg
Lough Derg Car Park
–
–
–
To reverse a place on the bus please contact Justin Harkin @ 087 6171526 / justin@elphindiocese.ie before Tuesday June 13th 2017.

Places on a first-come first-served basis.

Other Enquiries

Please contact Justin Harkin @ 087 6171526 / justin@elphindiocese.ie .