Lough Derg Pilgrimage 2017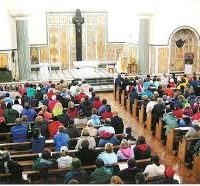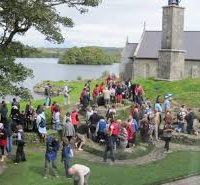 Introduction to Lough Derg
St. Patrick's Purgatory, Lough Derg, is among the oldest centres of Christian Pilgrimage in Western Europe, dating back to the sixth century. It lies about four miles north of the village of Pettigo in County Donegal, in the Diocese of Clogher, and is renowned in Irish Christian tradition since the time of St. Patrick.
Lough Derg is a special place of peace and personal challenge and has been receiving pilgrims continuously for well over 1000 years.
For many it is also a place of great healing, an extraordinary place where profound communion  between God and the individual takes place and usually is unseen and unheard by anyone except the person themselves.
Elphin Diocesan Pilgrimage 2017
On the weekend of Friday June 16th to Sunday June 18th 2017 Bishop Kevin Doran plans to lead an Elphin Diocesan pilgrimage to Lough Derg.
If you would like to reminded of this nearer the time please contact Justin Harkin @ 087 6171526 / justin@elphindiocese.ie .
Elphin Pilgrimage
Dates & Times:
Friday June 16th to Sunday June 18th 2017

Pilgrims are asked to be at the Island for 1 pm on Friday June 16th.
They will depart the Island at 10.15 am on Sunday June 18th.

Spiritual Directors:

Bishop Kevin Doran
Fr. Gerard Cryan (Summerhill College, Sligo)
Fr. Pat O'Toole CSSp (Ballintubber-Ballymoe Parish)
Fr. Alan Conway (Aughenagh Parish)

Youth Ministry
& Safeguarding  Officer
(16 & 17 yr  olds):

Deacon Frank McGuinness

Information on Lough Derg:

Please visit:  www.loughderg.org

Practical
Information:

Please consult the Lough Derg Three Day Brochure by clicking here. 


Likely Cost per person


(excluding travel)

:
 
Senior Citizen's:  €65.00

Other Adults:  €70.00

School Going Teenagers (subsidized): €45.00

Payable on arrival at  Lough Derg.

 
 
 
 Travel to and from Lough Derg
Pilgrims are welcome to make their own travel arrangements to and from Lough Derg
or avail of a Special Pilgrim Bus Service, pending available  places.
Pilgrim Bus Schedules and Booking Arrangements

More detailed information will be provided nearer the time.
An approximate and likely schedule follows:
Friday
Time
of
Departure
Parish

Pick-up
&
Drop Off
Point

Sunday
Time
of
Arrival
Likely Cost
Adult
Return
 
Likely Cost
Student
Return
 09.00
Athlone
 St. Peter's & Paul's Church
14.15
€30.00
  €5.00
 09.15
Kiltoom & Cam
 Church of the Risen Christ
14.00
€30.00
  €5.00
 09.30
Knockcroghery
 St. Patrick's Church
13.45
€30.00
  €5.00
 09.45
Roscommon
 Sacred Heart Church Car Park
13.30
€30.00
  €5.00
 10.oo
Kilbride
(Four-Mile-House)
 St. Brigid's Church
 13.15
€25.00
  €5.00
10.15
Tulsk
 Church of St. Eithne & St. Fidelma
 13.00
€25.00
  €5.00
 10.30
Elphin
 St. Patrick's Church
 12.45
€25.00
  €5.00
 10.50
Boyle
 St. Joseph's Church
 12.25
€25.00
  €5.00
 11.10
Aughenagh
 Hunt Service Station Castlebaldwin
 12.05
€25.00
  €5.00
 11.30
 Sligo
 Summerhilll College Car Park
 11.45
€20.00
  €5.00
 11.45
 Drumcliffe
 St. Colmcille's Church
 11.30
€20.00
  €5.00
 12 noon
 Grange
 Church of Mary Immaculate
 11.15
€20.00
  €5.00
 12.15
 Cliffoney
Church of St. Molaise
 11.oo
€20.00
  €5.00
 13.00
 Lough Derg
 Lough Derg Car  Park
–
       –
  –
Ballymoe – Boyle Feeder Bus
Friday
Time
of
Departure
Parish

Pick-up
&
Drop-off
Point
Sunday
Time
of
Arrival
Likely
Cost
Adult
Return

Likely
Cost
Adult
Return

09.30
Ballymoe
St. Croan's Church
13.45
 €25.00
  €5.00
09.45
Ballintubber
St. Bride's Church
13.30
 €25.00
  €5.00
10.00
Castlerea
St. Patrick's Church
13.15
 €25.00
  €5.00
10.20
Frenchpark
St. Asicus' Church
12.55
 €25.00
  €5.00
10.35
Breedogue
St. Attracta's Church
12.40
 €25.00
  €5.00
10.50
Boyle
St. Joseph's Church
12.25
 €25.00
  €5.00
Youth Pilgrimage
There is a longstanding tradition in the Dioceses of Clogher, Kilmore, Raphoe, Derry and Elphin of Secondary School Students completing the Lough Derg three-day pilgrimage between their sixteenth birthday and the beginning of their Leaving Cert year.
Such students often make the pilgrimage with their friends, and as with pilgrims generally, their motives differ. For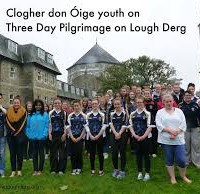 example, some make the pilgrimage as a prayer for success in their Leaving Cert examination, others for direction in relation to their choice of a career or vocation, others as a prayer for a loved one or situation that is a cause of on-going concern, and others in thanksgiving for blessings received.
Sometimes too students, like other pilgrims, are motivated by a personal intention that they wish to keep private or simply by the desire to try the Lough Derg experience.
The Parish Communities of the Elphin Diocese are keen to support Secondary Students make the Lough Derg pilgrimage and many have expressed a willingness to subsidize the cost for student parishioners, i.e. so that the overall cost does not exceed €50.00 per student.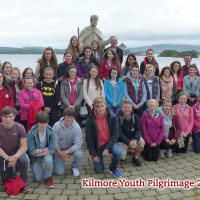 In 2017 we hope to repeat the  special return bus rate of €5 for all secondary school students from all pick-up and drop off points in the diocese.
A reduced rate will also apply to each student's stay on Lough Derg.
Parental Permission Form
Young people under 18 Years of Age, if they are not being accompanied by their parent/guardian, must get their Parent/Guardian to complete a Parental/Guardian Consent Form.   below (PLEASE CLICK ON LINK) and submit it to Frank McGuinness no later than Tuesday June 6th 2017.
PARENTAL-GUARDIAN CONSENT FORM FOR LOUGH DERG PILGRIMAGE
Please send forms to:
Frank McGuinness
Director of Youth Ministry & Safeguarding
St. Mary's
Temple Street Sligo
| | | |
| --- | --- | --- |
| Name | Mobile | Email Address |
| Fr. Gerard Cryan |  087 134 5115 |  gcryan@summerhillcollege.ie |
| Fr. Pat O'Toole CSSp |  087 741 7461 |  frpatotoole@yahoo.com |
| Fr. Alan Conway |  087 918 5899 |  alcon200016@gmail.com |
| Liz Hanly |  086 167 0557 |  lizhanly1@gmail.com |
| Fidelma Croghan |  087 766 5219 |  fidelmacroghan@gmail.com |
| Patricia McCaffrey |  083 198 5053 |  dusty_70@yahoo.com |
| Fina Golden |  087 681 6821 |  finasmail@gmail.com |
| Caroline Daly |  085 165 3941 |  Not applicable |
| Justin Harkin | 087 6171526 | justin@elphindiocese.ie |